So I was in the hospital all day yesterday for my D&C and it went well – they got everything out.
We got there at 7am and I had to be à jeun (not have eaten or drunk anything since the night before) and pre-scrubbed with an antiseptic soap. The staff was nice and asked how anxious I was (to know whether or not I would need a Xanax). And the hospital gowns were a really flattering dark blue. I don't know if you realize first-hand just how awful those white and blue flowered gowns are in flourescent light but it was so nice to see rosy cheeks when I looked in the mirror.
Actually I commented to my husband just how happy I felt as I was lying there on the bed and he was seated on a chair at my feet. I didn't have to worry about anyone else, I could just get my own needs taken care of and have an entire day to myself. "That's so sad," he said, his forehead wrinkling in concern as he rubbed my feet.  "You're in a hospital!"
"I know!" I said, laughing with delight.  (I think I need to get out more).
By about 1:00 my patience was being tested as my stomach gurgled and my throat was parched.  But even the delay was not enough to shake my good mood. I told Sir how happy I was that I would finally have closure, and that we were going to have gluten-free pepperoni pizza that night and watch our latest DVD series. Plus I would have a complete day to recover since the kids would be in school the next day and I had nothing else planned.
About that time, my neighbor was brought in and although I couldn't see her because the curtain was closed, it was like being an unwilling fly held captive on her wall. She was sobbing and saying that she was tired of being opened up, tired of people seeing her butt (she didn't want to wear the gown). What did she ever do to deserve cancer and she was so afraid of dying. Why did she have to die?
Her husband murmured in relay with her sobs, "Honey, be reasonable; everything will be alright; no I've never thought much about death; don't say stupid things, I won't stand for it; everything will be alright."
I had mixed feelings. I felt first and foremost a determination that I must bravely face whatever I needed to go through – not just today, but whatever I came up against in the future. Crying and balking didn't help her husband, and it certainly didn't help herself.  It just did no good at all and it couldn't change a thing about her situation.
And then I felt an overwhelming compassion for her and what she was going through – how frightened and trapped she felt. Since social protocol dictated that I couldn't open the curtains up to speak comforting words to her, I just prayed for her – that she would be healed from her cancer and that she would be relieved of her intense anxiety. Even though I had been there for six hours already, they took her before me and I was totally fine with that. Poor woman needed to get through her anxiety-inducing procedure as soon as possible. 
So I was finally wheeled to the operating "block" as they call it. (A little too close to "butchering block" for my comfort). I lay on the narrow table under the great white light with my arms stretched out on either side of me, while an IV the size of a drinking straw was inserted in my hand. I was told to think of something happy and so I remembered our trip to FL when Young Lady was 6 months old and Sir told me he was ready to move back to France. And then just as I was about to go under, I quickly thought of other memories with my sons because I didn't want to leave them out.
When I woke up the doctor told me that the procedure was a success – they were able to remove everything – but that there was too much bleeding to see anything properly so I would have to come back for a hysteroscopy a month later and that would be done with no anaesthesia whatsoever.
That piece of news was just … such a bummer.
By the time I got back to the room, I had developed a a high temperature. I felt feverish so I wasn't really surprised when the nurse declared me to be at 101.5. They won't let you out of the hospital with a fever so I resigned myself to stay the night and just battled to keep everything in perspective. But then Sir prayed that I would be able to go home with him that night, and somehow when the nurse came back with the doctor, I felt normal again and my temperature was also completely normal.
I don't really understand it, but it was my own little miracle.
As we were driving home, I knew there would be no pepperoni pizza for me that night. For one thing, we got home at nearly 8pm and I hadn't eaten or drunk anything since the night before with the exception of a yoghurt and applesauce after the procedure. For another, they had put a tube down my throat during the operation so that I could barely swallow and it also felt like there was a knot in my stomach whenever I swallowed, like acid reflux.  So definitely no pepperoni for me.  (It may sound trivial but pepperoni pizza is a rarity for a gluten-free lady like me).
And when my mother-in-law brought the kids home we found out that we had sent them to her house with "poux" (pronounced like pooh).  It means lice.
Aaargh!  The first time they had ever gotten lice was when I was in the hospital after having given birth to Petit Prince.  And of course the kids just happened to be staying at Sir's parents during that time. (I mean, my in-laws are very gracious, but we might just outwear our welcome). Since we had nothing to treat them with, we had to keep them home from school the next day.  So.
No closure.
No rest and recuperation.
No pepperoni pizza.  Nothing was turning out at all like I had planned.
But I decided today just had to be a good day, so I prepared myself for it. First I did this: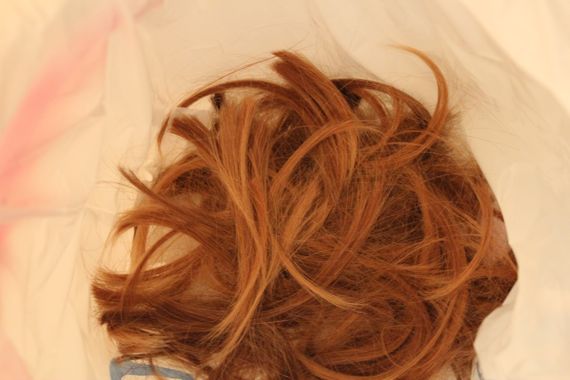 This is Young Lady's hair, which I chopped off.  It's times like these when having a girl can put you at a disadvantage – lice love long hair. (Say that 3 times fast) 
Then I put their treatment on. This is them showing how they feel about having lice.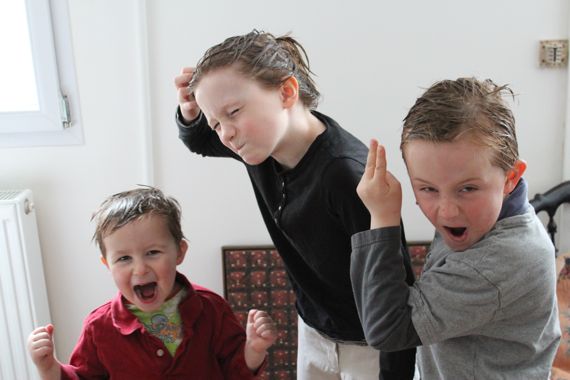 Then I did laundry.  This is only half of it – sheets, towels, stuffed animals, coats, sofa cushions, blankets – you name it! Everything that might have been contaminated.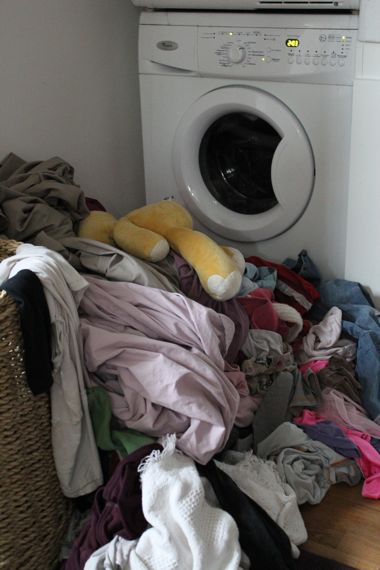 Then I got them outdoors to burn off steam.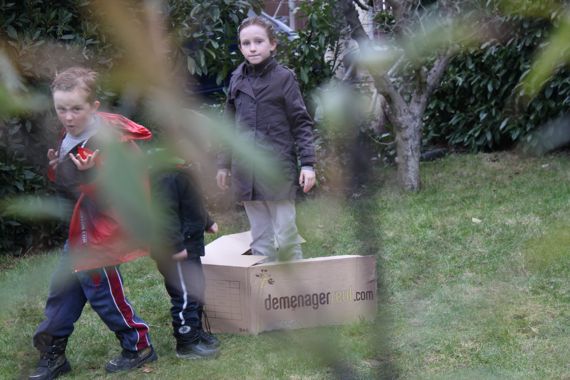 Then I looked online to find an art project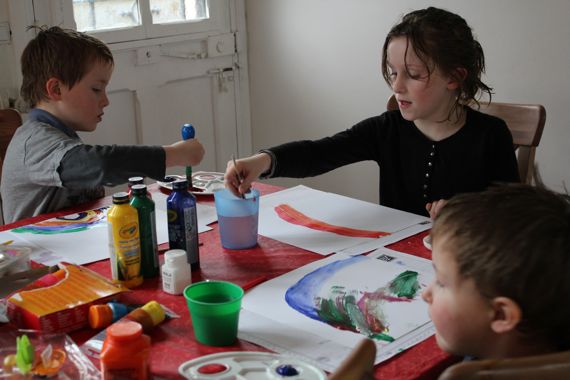 that they could really be proud of.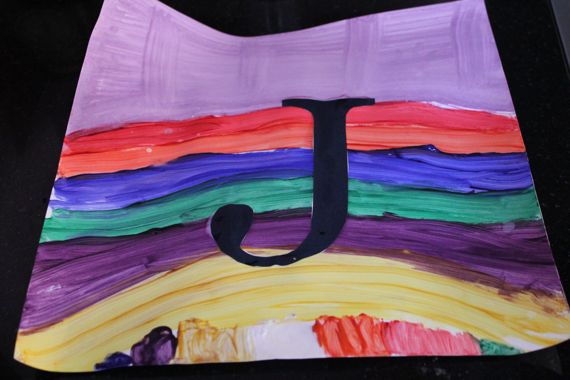 And then we made these.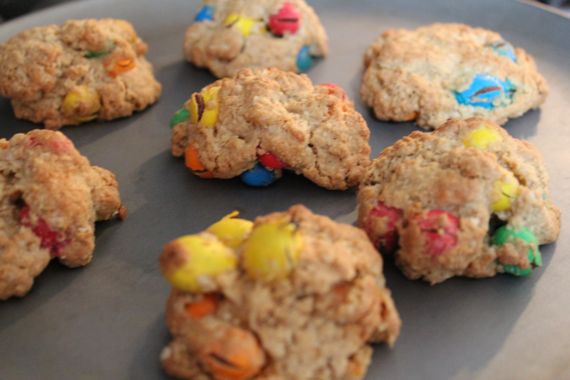 I know, ridiculously garish right?  Oatmeal cookies with peanut M-n-M's.  A surefire kid-pleaser.
Now they are watching a DVD and I feel like I really earned my down time, even though I was actually filled with contentment today in spite of it all – I enjoyed all our activites and even the chores. I don't know if it was remembering that woman and how it could be so much worse. Or if it was the fact that I just really appreciate my life right now with all its ups and downs. Or if I was, in fact, able to find some closure after all.
In any case I'm currently under observation for multiple personalities. I may be committed.