I'm sorry to say that this post is just like one of those rides at the amusement park. You know – the swings that you sit in, that rise up very high and soar outwards, going around and around until you're dizzy?  But that is what my life has become, and it's not surprising that the words are soaring out of me in like fashion.
Young Knight's front tooth has been sticking out perpendicularly for about a week now. We tried everything to make it go, including the highly effective granny apple route, but all to no avail. The other day Young Lady suggested he bend it backwards, which produced no better result for our dear son than a steady gush of blood, and a steady gush of apologies from his sister for having so ill advised him as to the proper course of tooth removal.
That same day I brought him to the Centre and told the counselors that I hoped the tooth would fall out while he was there with them, instead of it falling out at home with me.  They made some form of protest until I winked at them and joked about being an "unworthy mother" (une mère indigne), which made them laugh, but left them in happy ignorance as to how serious I was.
It did indeed fall out during the day and he was blood and tooth-free by the time I picked him up. When he inquired on the ride home as to the process of getting his coin (and whether it couldn't be paper instead) from "la petite souris" (the "little mouse" instead of the tooth fairy – the French are so unimaginative), Young Lady replied with a knowing look, "And if it's the parents who give the coin?"
I pulled her aside on our way in and whispered, "Don't give up the magic for your little brothers yet." She looked at me in great surprise and whispered back conspiratorially, "So it's true then? It's the parents? And Santa too? Yes! (with a fist pump) I knew it!"
It was not easy reaching the tooth that evening as Young Knight had put it on the other end of his pillow and I had to move his lolling head in order to retrieve it, but the next day he came upstairs proudly holding his piggy bank.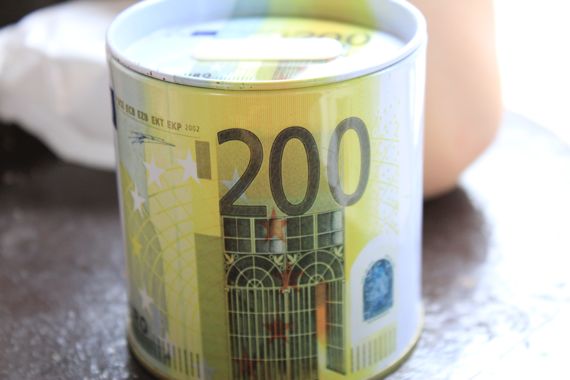 And he then proceeded to carry it around with him all day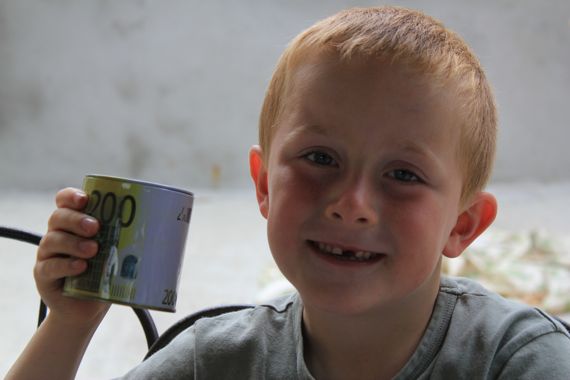 He even tried to carry it to the US Consulate where we took him to renew his passport, but I said it was not a great idea in case he lost it there.  He had to concede the point.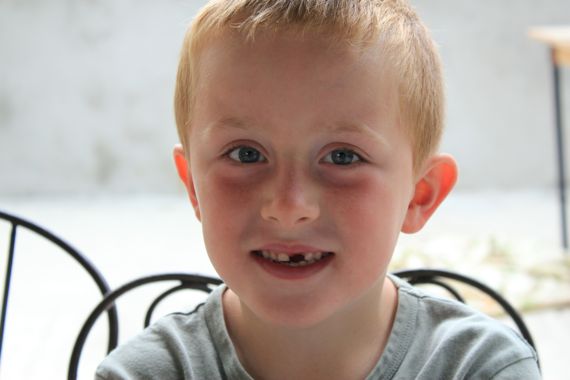 I remarked to Sir that our son looked a lot like that red-headed kid from Mad Magazine, and that he will look even more so when he loses that second front tooth. This made Sir reminisce about the single days when he had a Mad tee-shirt with the famous grin, and a caption that said, "What – Me Worry?"  "How I loved that tee-shirt," he said nostalgically.
"Ah," I sighed, "You were really in need of a wife. Was that part of the clothes I got rid of when I moved in?  Like those plaid pants that were way too small?"
"No, I think my roommate stole it."  Then it dawned on him what I was saying, and he added indignantly, "It was a great tee-shirt!  It had a spiritual significance." 
"Yes, but you may notice there were no girlfriends forthcoming until your roommate stole it from you."  
This makes him laugh.  And he had to concede the point.
At the Consulate, we present our son to the agent, who then asks him to raise his right hand.  Young Knight looks at him blankly. (What doesn't he understand, I wonder.  Is it to "raise" or is it knowing right from left?")
The agent asks him, "I'm going to ask you to swear an oath – can you do that?"
Young Knight continues to look at him blankly.
"Um," I intercede nervously, "I'm not sure he knows what it means to swear an oath."  I turn to Young Knight.  "It means to promise something," I tell him.  He looks at me blankly.
The agent gives up and switches to French, "Who is this person?" he asks, referring to me.
"Aah," Young Knight looks around, giggling nervously. "My mother?" he asks him.
"And who is this person?" the agent asks indicating my husband.
"My father?" he asks more confidently.
I jump in again, "Just so you know, we have those progressive pictures you asked for, from birth to present.  In case his performance as our son isn't convincing enough."
This seemed to settle things because we are allowed to sign the papers and leave with our son, with the promise that we would receive his passport shortly.
Following the Consulate visit, we took a nap and ate chocolate cake.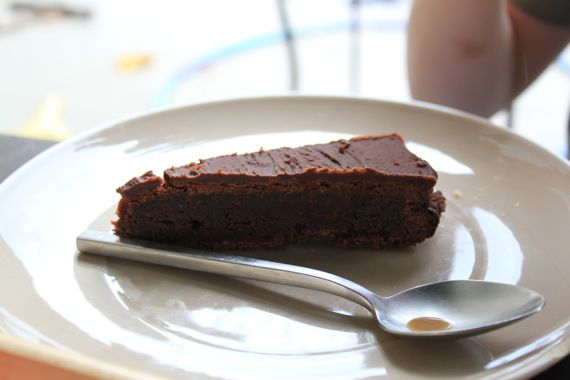 I made the cake on Wednesday for when my step-brother Tom – my father's wife's son – came to visit with his step-family – his father's ex-wife, plus their son and daughter.  I'll give you a minute to sift through that bit.
I was smug as I was whipping up the cake, thinking what a good cook I was, and how I was going to blog about that recipe next.  But my husband told me when the guests had all left that the cake was way too sweet, so I stopped being smug.  But I didn't stop eating the cake.
If you've ever seen the French movie "Le Père Noel est une Ordure" (Father Christmas is Garbage), you may have noticed the scene where the guy is sitting with his patterned suit, sprawled across the patterned couch – and they are the exact same pattern.  Apparently it took hours and hours to get it just right so that the cut of the pattern on the suit would be adjusted to match the pattern on the couch in the exact position he was sitting.  It blends so perfectly he looks like he's part of the couch.  
In a less-than-smooth analogy, I find it interesting that Tom's step-mother, Michelle, was wearing a tee-shirt that perfectly matched my mug, which I noticed as soon as I handed her a cup of coffee.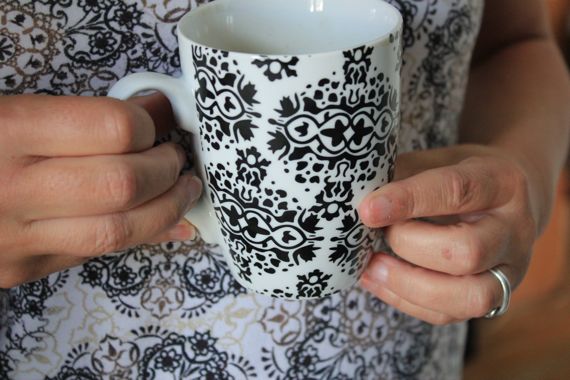 And then as we were all sitting at the table, I noticed that her daughter's nails matched our mugs as well!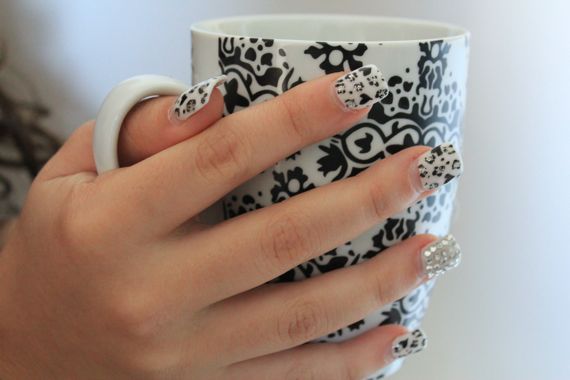 Texas girls have very cool nails.
Apart from the chocolate cake debacle, we ate caviar with cream cheese on cucumbers.  And we ate ratatouille with roast chicken and radishes.  And we ate it with great gusto and alliteration. 
It seems that only today, the soaring ride that my life has been has finally slowed down enough to see what a state our garden is in.  There are the pretty things, like the wildflowers, which have finally sprung up and brought a party of buzzing bees.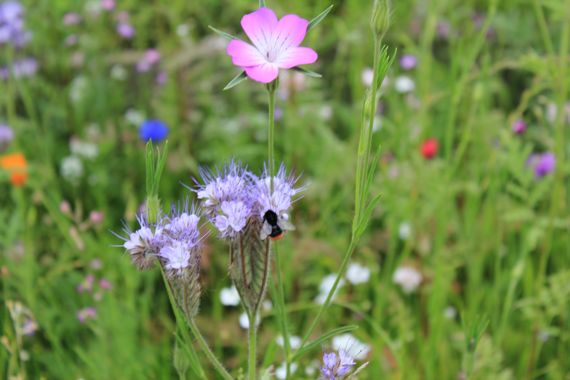 On the flip-side there are the zucchinis, which I only neglected for one week. One week!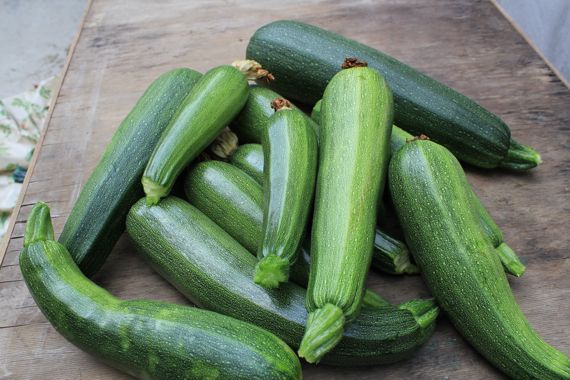 The only idea you can get of how big these thingies are is to understand that the table underneath is nearly the width of a dining room table, and the large one in the back is the length of my largest cutting board.
I've spent the day making zucchini soup, zucchini bread, mixed purée soup (with zucchini), roast vegetables (with zucchini) and the preparations for stuffed zucchini (by steaming the zucchini). This so reminds me of my childhood.  Dad – where's that recipe for zucchini pizza?  
And I didn't even start on the ripe plums yet.
The frenzied cooking makes me panic a little because I have a lot to do before I leave for NY in ten days, and none of those things were meant to involve plunging knee-deep in zucchini. I invited Renata (of the strawberry making) to come over and "save me from my vegetables!" which I flung at her as soon as she walked through the door.  She has cut off all contact with me.
It's late now, and with all the cooking done, I am left to ponder the fact that I am going away for a week all by myself for the first time in eight years. To BlogHer. (If you don't count the whirlwind weekend six years ago in NY, to be a bridesmaid in my friend's wedding, where I left my breast-fed Young Knight behind, and pumped in between parties, before rushing back to France to hug my babies).
And I must confess, hermit that I've become, to harboring such fears as, "What if people find me much less interesting in person?  What if they notice that I have more padding and wrinkles than my wedding picture has?  What if they expect someone more glamorous, and they just get me instead?"
I mean – I'm not worrying enough to lose sleep over it – that's from excess coffee consumption – but it's definitely enough to make me sift through the sales racks, unsuccessfully, to try and find something decent to wear.
My husband is of absolutely no help.  He just tells me to not worry.