This is what farmers do when they want to have pretty nails for the upcoming BlogHer conference in New York City.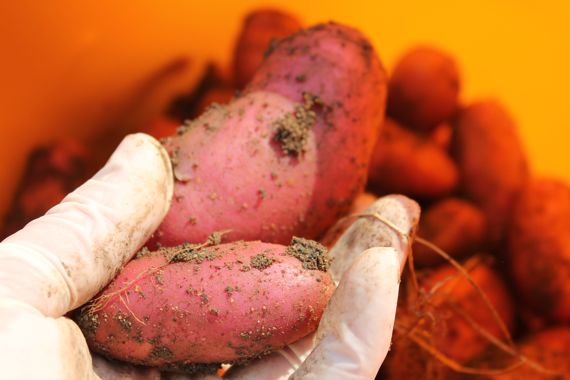 Surgical gloves to dig up the potatoes!  Not a very green thing to do, but then BlogHer only comes once a year. (Unless you're attending BlogHer Food or BlogHer Europe). Oh! You didn't know BlogHer Europe existed? Well it doesn't yet. But the first one will be held in Paris. One day. In my dreams.
Anyway, if you are not going to BlogHer and wonder why in the world anybody would get excited about it, let me tell you. I will be taking an airplane for eight hours all by myself. I may watch a movie, or two, or three. I may read. I probably won't say a word other than, "Chicken please," "I'll have coffee," and "Thank you."
I will wear pretty shoes and a pretty skirt and there will not be greasy fingerprints on either one. Well … actually I cannot guarantee that.
I will talk to people I've gotten to know – know well, I might add – over the past three years. And I'll get to see their beautiful faces in person, which will solidify an already solid relationship.
I'll attend sessions like the one sponsored by Johnson & Johnson about the State of World Mothers, which is so right up my alley. And I'll learn how to maximize my presence in social media.
Or I'll just go to Starbucks for a latté.
I'll get to see the beloved city of New York, where I spent eleven happy years of my life. And I'll see just a handful of old friends (but not all of you – you know who you are – because I'm really just in New York for the conference and then I'll go to church and then head out, so I'm going to miss you on this visit, but I love you and will see you when I come with the whole family).
I'll get to go shopping. Just a wee bit.
On the whole, it's all very exciting. So much so that I was jumping up and down while my husband held me in his arms, laughing at me.
I said, "I have to get it all out now, so that when I meet people I'm cool and collected."
(in my thug voice), "No – how YOU doin'?"
If you're going to BlogHer, make sure you come up to me and let me know.