Oh my word, les choses bougent! which means something like – life is crazy these days (and is pronounced lay shoze booge).  It feels like a regular comedy of errors. 
Young Knight has had one gorgeous soccer practice, one practice in the pouring rain, and one practice canceled because of the rain. And it's supposed to rain again all week. He is still enthusiastic.
I am less so.
Petit Prince is constantly making us laugh, especially when he runs. He starts turning his legs in a circle well before taking off, so much so that he strongly resembles a cartoon character.
I am taking yoga, and stretching myself into positions I thought not possible. I'm also stretching myself emotionally . . . I'm working on combatting those annoying thoughts that I'm not worth anything. (Do you feel like that too sometimes? Or am I the only one who suffers from debilitating lack of self esteem about once a month?) I am listening to my husband tell me all the ways he loves me, and trying to stretch my brain to believe it.
On an unrelated note, we followed this tractor home to his field, which is across the street from us. You'd never guess we live so close to Paris.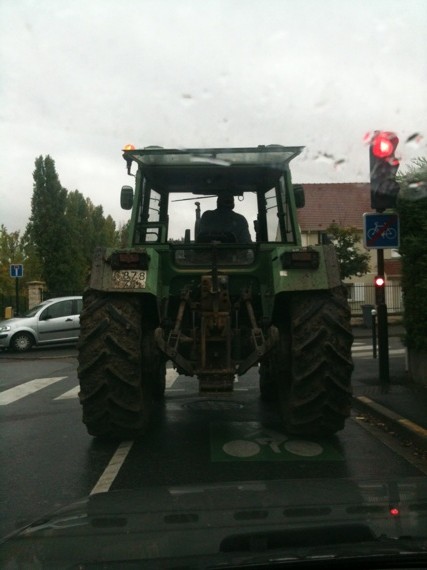 I love my life.
One of the moms approached me today at school to tell me that her son Viktor is still in love with Young Lady. Apparently he said to her, "Mom, I know I can have a lot of girls. But I like her."
Oh really Viktor? Is your heart lost forever? I fear you may not be the last.
She decided to run for student council and was required to create an announcement promoting herself.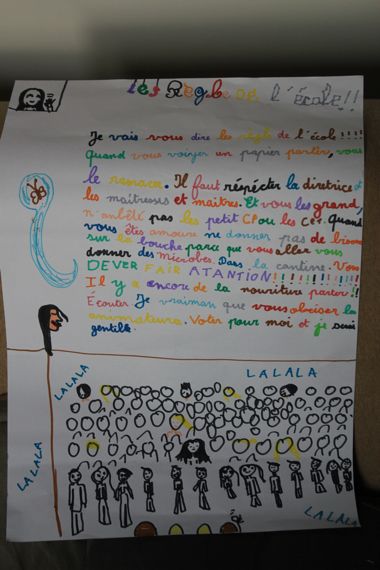 She could either post a picture of herself or draw one.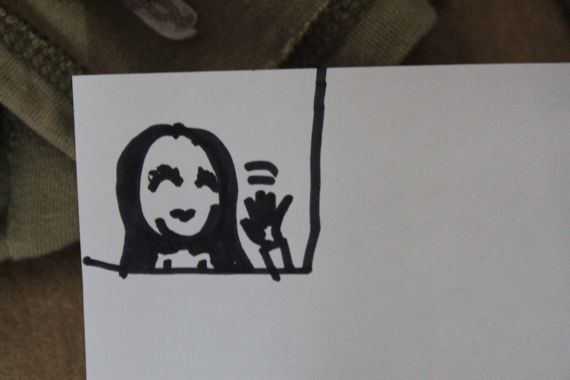 And she was required to state the rules of the school.
Here is what it says:
When you see a paper on the ground, you pick it up.
You must respect the principal and the teachers.
And you, the big kids, don't pick on the little first or second graders.
When you are in love, don't kiss each other on the mouth because you are going to get germs.
In the cafeteria, you must PAY ATTENTION!!!!!!!!!!!!! There is still food on the ground.
Listen. I really want you to obey the cafeteria monitors. Vote for me and I will be nice."
We laughed at her comic proclamation so much (when you're in love don't kiss each other on the mouth or you'll get germs) that she went and made an entirely different one – much more traditional and much less interesting. No mention of kissing.
We'll see whether or not she wins.
In the meantime, look at this detail! Below is a picture of the choir – do you see the director at the very bottom, conducting with her fingers?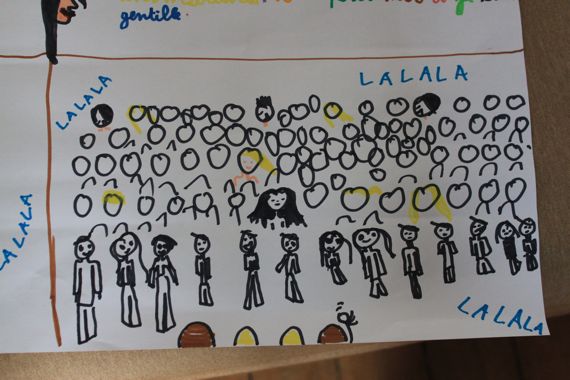 We are basking in the comic relief that surrounds us,
as it appears I have one child who is skilled at drawing cartoon characters
and one child who appears to be one.