To "train the dog" is "dresser (dress-ay) le chien" in French. And it's a long, long (unlooked-for) process to have a nice obedient dog that is dressé.
You have this cuteness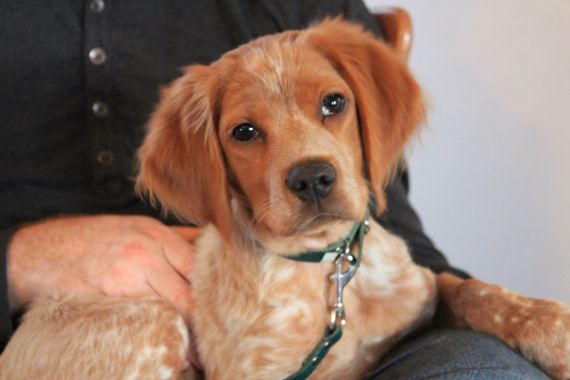 and this.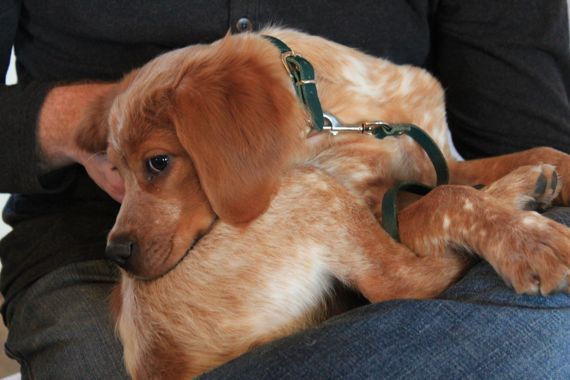 And then you have this.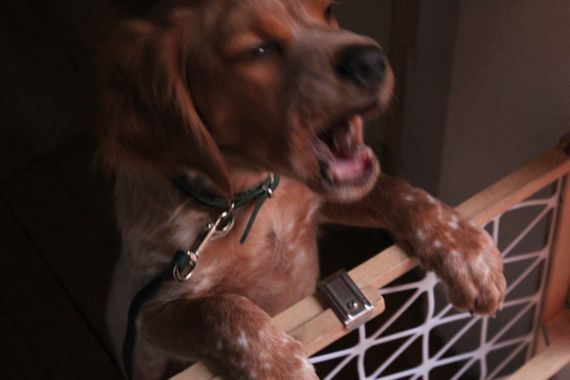 Christmas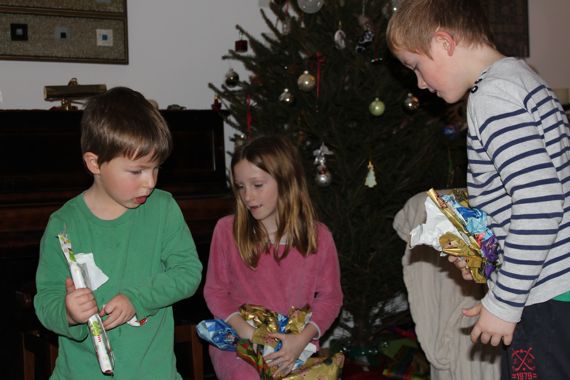 takes on a whole new meaning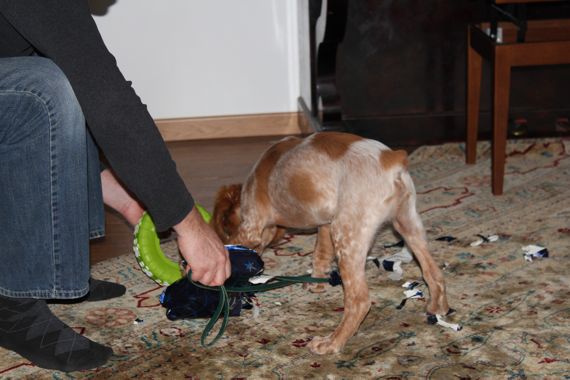 when you have a puppy.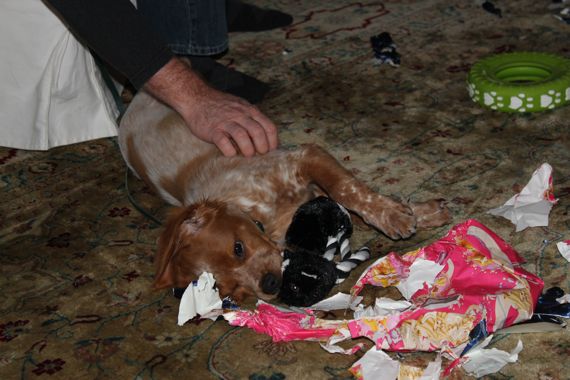 I was optimistic that with a name like Hunter, we would all be speaking English to the dog. The 'H' sound is difficult to say in French, so even the kids were naturally switching to English, which is very unlike them.
But as soon as the trainer came (and told us how stubborn our dog was, and how difficult to train), he gave us all the commands to say in French.
"Pas toucher!" (pa too-shay) means "don't bite"
"pas sauter!" (pa so-tay) means "don't jump"
and "descends!" (day-sawn) means "get down."
We say pas toucher so much we've started saying it to the kids whenever we want them to calm down. Pas Toucher! The joke has long lost its luster for them, but we still think it's funny.
It's not that there are regrets, but the workload for this little devil is unending in the training, the walking, the middle-of-the-night pee breaks, etc.
Yesterday, Sir walked Hunter before driving off to pick the kids up at their grandparents. Hunter took off right off the garden as soon as he walked through the front gate, and Sir went back out the front door, after having called up to me that he was on his way.
I was enjoying some quiet time with a cup of tea and my computer – quite a bit of quiet time, actually – and I thought after a good chunk of time that I ought to call Hunter to come back inside. He didn't answer my calls right away, which is not that unusual, but when I went to investigate, I saw that our badly installed electronic gate in the backyard was part-way open.
The dog was nowhere to be found.
I called Sir and left him a message, then went to the bathroom (all that tea) before setting out to look for him. I walked over to where the fields were, and then went around our usual walking route at a very brisk pace. I asked everyone I saw whether or not they had seen a little puppy.
Finally someone said they had, and that it had wandered into their backyard an hour earlier. But when we went to look, the yard was empty. "My uncle must have let him back out again," she explained.
By this time I had spoken to Sir, who told me regretfully that when he went out the back gate with Hunter for their walk, he had only listened to the gate close, but didn't see it through to the end.
By now it was getting late, so I grabbed the car keys and pulled the other (behemoth) minivan out of the back gate. I kept envisioning the worst. I kept seeing him get hit by a car, or whimpering somewhere by the side of the road in the middle of the night, hungry and cold. My breath was coming in short gasps.
I drove past more neighboring fields and stopped the car while I called out, "Hunter! Hunter!" It was starting to get dark and people were putting their headlights on.
It was just as I was driving into the center of town that Sir rang me. I pulled over into the nearest space to answer it.
"The vet has him," he said.
I immediately started to cry with relief. Before getting his call, I couldn't imagine how we were ever going to get our puppy back, even if someone did find him, because we had not yet put a dog tag on him. It didn't occur to me that someone would bring him to the vet.
But when I pulled up in the parking lot, the office was empty and dark. That was when I got the second call from Sir. It was not our vet – it was the vet in a neighboring town!
I didn't know where it was, but immediately set off to find it, thinking that I could ask someone there who had a dog where I should go. I drove past the familiar street where my doctor was located and turned left to where the shops were. It was there that I was able to stop a lady walking her dog and ask her how to get to the vet?
"Which one?" she asked. Apparently there are five.
She gave me directions to the nearest one, and it was just when I was getting lost from her directions that I got the third call from Sir, who had done the legwork and was able to steer me to the right vet . . . the one that was on that first street I had driven past – the one where my doctor was, and in fact, the office I park right in front of every time I go.
Duh.
What a happy, joyful reunion with leaps and kisses! For once I did not tell him to pas sauter as I held him in my arms.
The vet told me what I already knew – that I was so lucky to get an honest person to return a purebred puppy to the vet, where they were able to find us through his ID tattooed on those floppy ears. The lady had noticed that he was walking along with a leash trailing behind him and "didn't think that was normal."
I can't even imagine the scenario of crossing all those busy streets to get to the next town over, and I don't want to!
Later on, Sir remarked, "This could have been a very different kind of evening for us," as our puppy was sleeping safely downstairs and all was well in our household.
And, given our panicked reactions to the fear of losing our puppy, it allowed us both to realize how much we love this scrap of pedigree fur.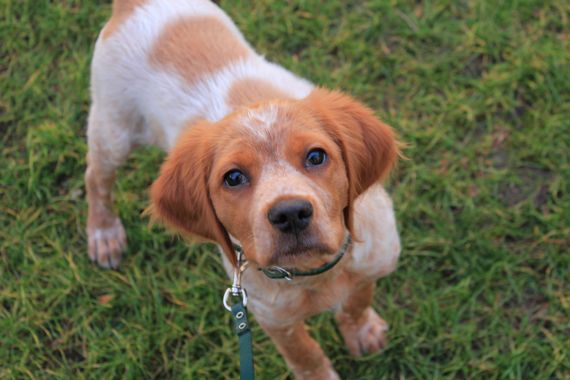 Even if it will be ages before he is dressé.