Valentine's Day is hit or miss chez nous. I get that. I mean, my husband grew up with a Dad who (while perfectly sweet otherwise) couldn't stand any form of commercialized holiday. And my desire to receive cards, flowers, chocolates, presents on any given holiday waxes and wanes with my mood.
But this Valentine's Day, I decided I wanted something. What can I say? I'm a woman, and I reserve the right to change my mind. After all, the last time I had flowers from my husband was when he cut them off my rose bush in the garden. Sometimes a little commercial holiday goes a long way in lighting fires under certain butts.
So this is what I said: "Honey, why don't you buy me a bouquet of flowers and a tiny box of chocolates for Valentine's Day, and I'll make your very favorite tarte in the world." (Dijon mustard, Swiss cheese and tomatoes – it's on my recipe page). I don't know, what do you think? Too ambiguous?
He said okay. We have a verbal confirmation!
I was in a good mood. Rain had stopped.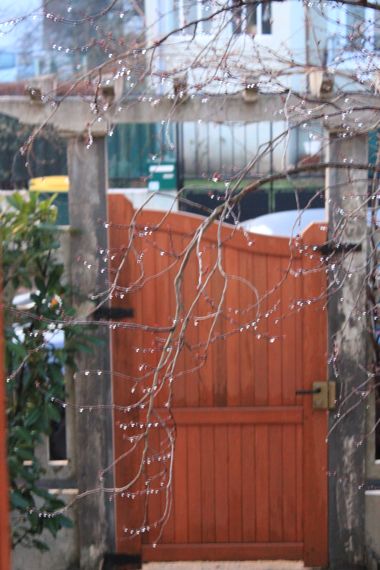 Sun was finally shining after weeks and months.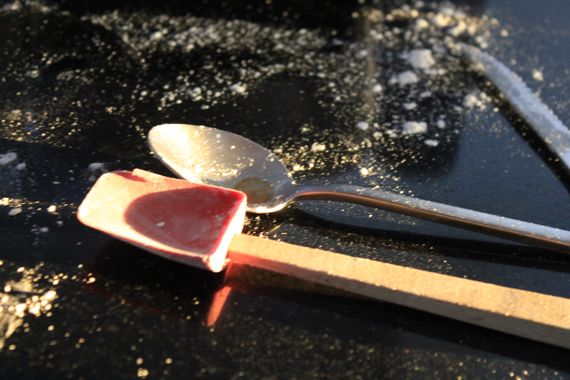 I found my heart-shaped pans to make, not only the mustard tarte, but an apple tarte as well (also on my recipe page, if anyone is interested). I even made a card about him being an A-okay husband.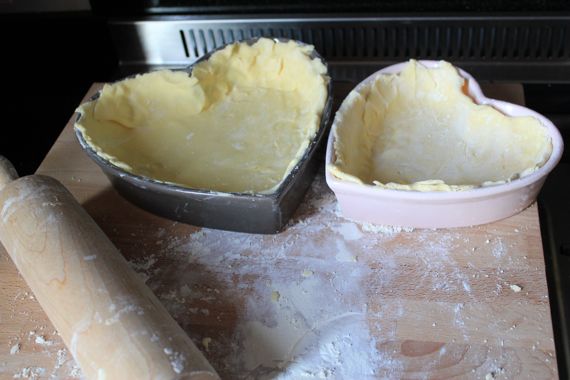 But he came home empty-handed in spite of my clear directive broad hint. After our usual explosive fight (I say I'm hurt, he says he's sorry, we make a joke), I let it go. To be honest, I was sure I was going to get a reconciliatory bouquet the next day.
He decided to work from home after his morning meeting, and when he came in he spent a bit of time downstairs (surely writing a card about how I'm the most awesome wife in the world). But when he came up, he was empty-handed again! This time I was really hurt, but I swallowed it.
Well … I sorta swallowed it. I said, "I thought you would buy a make-up bouquet of flowers for me today!" And the look that froze on his face clearly said, "uh oh." (Awooooga! Awooooga! Emergency! Abandon cruise!)
After nursing my feelings by walking the dog, I read a book downstairs (under my covers) until it was time to fetch the kids from school. And when I came up, I found a beautiful bouquet of flowers sitting on the table.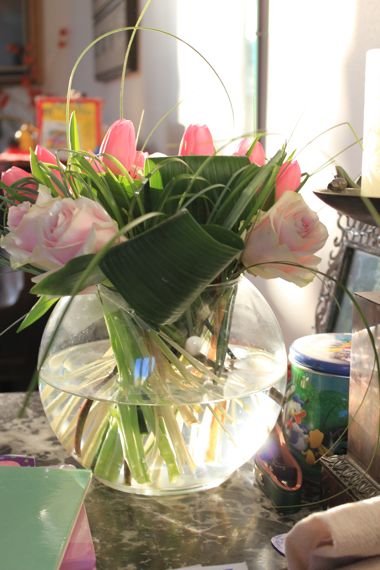 And even sweeter were his words, "When I saw your face after letting you down two times in 24 hours, I felt like I had broken something and I just couldn't let that stand" proving that late is waaay better than never.
On that theme, Gigi at Kludgy Mom is having a better late than never Valentine series (which has nothing to do with V Day except for the love part). If you're a blogger and have an old post that you wish had gotten more attention, you can link it up there, get some love, and give others the same. And you have until the end of February to link up.
With Gigi's permission, I put the first chapter to my memoire. Although it's not old, it's all I can think about these days and that's what I want readership for more than anything else. But I'm also doing what's important and discovering a lot of new blogs and giving some love to those old posts of theirs cuz it's … (say it with me now) better late than never!
Hope to see you there.