Did you ever see the Simpsons episode when Homer sold his soul for a donut? And then he proceeded to tempt the devil by eating most of the donut, but not all, so that Satan couldn't actually steal his soul? And then he started sleep-walking to the fridge for his nighttime snack (where the rest of the donut remained)?
Well. Would you please vote for me for Circle of Moms Top 25 European Moms Blog? You can vote every 24 hours until October 4th. It's a little soul-sucking to ask for votes, but it turns out I have no shame.
Ahem.
After having killed all of my houseplants but one, I decided to order a sampler of house plants.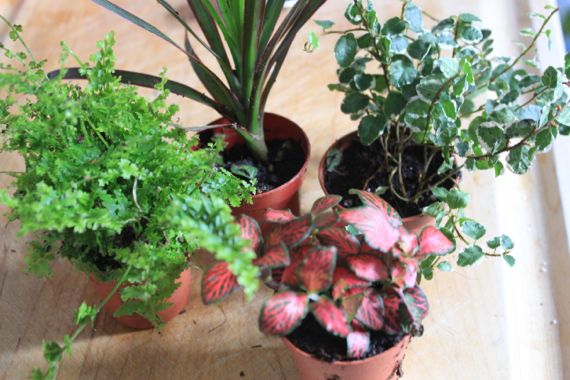 I had no idea they would be so ridiculously small.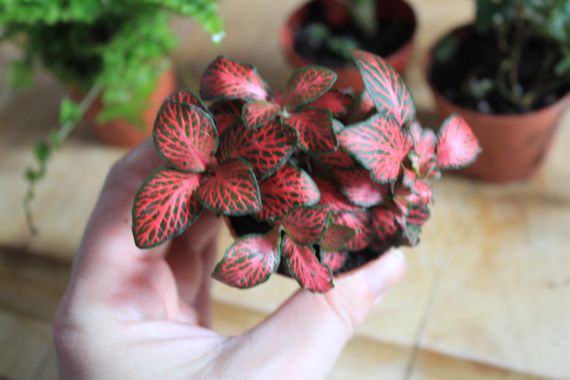 I thought they would look foolish by the time I repotted them, but it turns out they're not so bad. I hadn't realized none of my ceramic pots had holes in it and I didn't have the right-sized plastic pots to put inside them so the plant could drain properly. I had to get creative -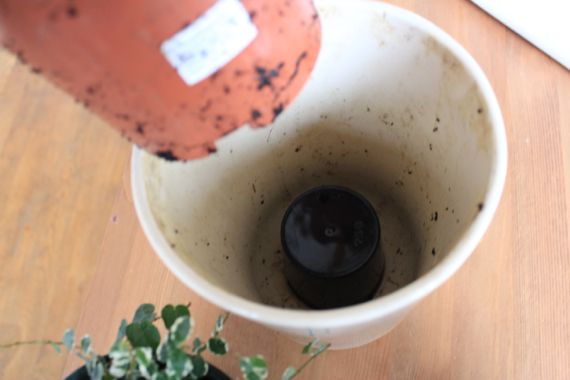 piercing holes in an old tupperware and balancing the interior pot on a little shelf so it wouldn't sink too far into the ceramic pot.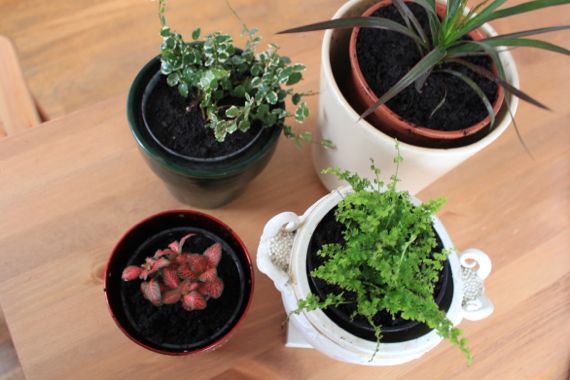 I mentioned in my post on angels that I would be making some blog changes soon and I thought I would lay it out a bit more clearly here. This is supposed to be accompanied by a new look, which I've been so excited about. But it's still touch and go on whether or not that's possible.
I just had a 1000€ crown put on my tooth – had no idea what a crown was going in, no idea how much it hurt, no idea how much it cost (and how little of it was reimbursed). Then our dog barfed on our silk rug and it will be 600€ to clean, and the brakes on the car I drive were about to give until the garage caught it (thank you God for timely miracles) and that will set us back to the tune of 450€. So I'm waiting for my ship to come in, and hoping I'll be able to find the money to still get a new design.
But in terms of changes, which will go forth regardless . . .
I've decided to post four times a week, the same genre of post on the same day so people know what to expect. My main reason for doing this is because I'd like to start writing about faith but I want everyone to feel welcome here. If you're not into faith, you can skip the Monday posts, because that's the day I will write on faith.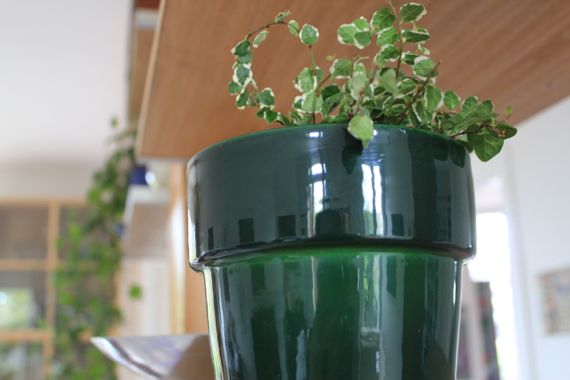 This plant is going to be a hanging one when it grows up, so I put it up on a shelf across from my other hanging plant in ceramic blue.
On Tuesdays I will do a recipe post. I am never out of ideas on what cool French recipe I could post, but I am unorganized. Tuesdays are generally an easy day for me, so I should be able to get my act together to share some of those delicious French recipes you might never discover unless you live here. If you know that you will never, ever make the kind of things I'm making, and in fact you hate recipe posts, you can skip Tuesdays!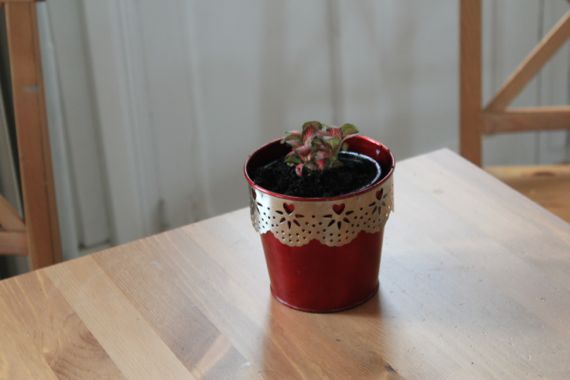 This lonely little plant here will go in the kitchen. But my kitchen is too messy for me to take a picture of it there. (See above comment on being unorganized).
Thursdays I will post something on France. I am generally a bit of a homebody and don't wander into Paris as often as you might think – as often as you might if you lived here. But I should be able to drum up something! A photo? A French expression? A history lesson? A venture in tourism? I am called A Lady in France, after all, (even though we all know it's bit of a stretch made possible only through geography).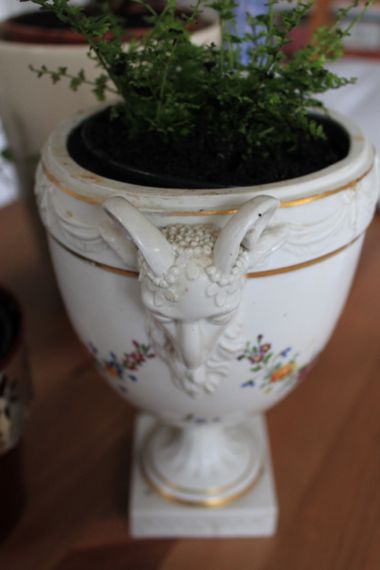 We've had this câche-pot (plant holder) for years now, but it's been stored in the cupboard.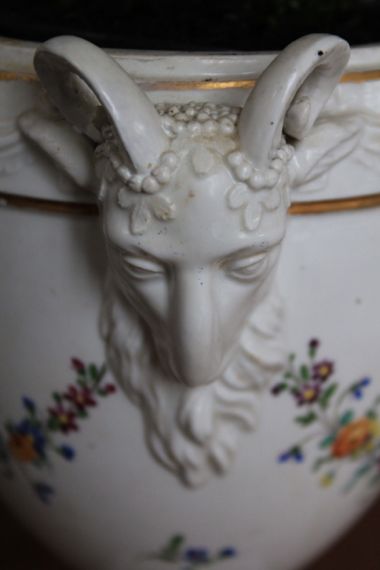 The bashful faun.
I have no idea how old it is – at least a century or two – but I never dared to take it out with all the small kids running around. But it should be safe here in the stairwell. I hope.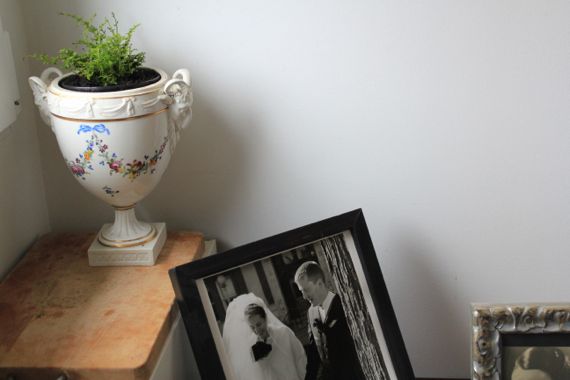 And finally, Fridays will be my day – the family, the naughty dog, my neuroses. Can't escape the voices in my head. If you read my blog regularly, and if nothing else appeals to you, hopefully Fridays will be a bit more of the same.
This pot came attached to a similar looking plant that was four times its size. It looks a little silly now all scrawny, but it will probably grow. I mean, we all keep growing as long as there's life to live, right?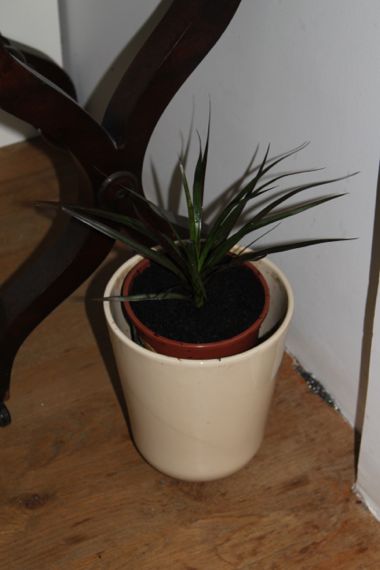 So the rundown on blog changes (starting in October) is:
Mondays – Faith
Tuesdays – Food
Thursdays – France
Fridays – Family
I know myself well enough to put a disclaimer in that if I have absolutely nothing to write on a particular subject on a particular day, I'm not going to force it. And if I find that I am so far behind I don't have time to clean my kitchen . . . well . . . in that case it's pretty much 50-50 whether I'm going to post something or not. But there will be a degree of flexibility involved so that blogging remains, as always, a joy.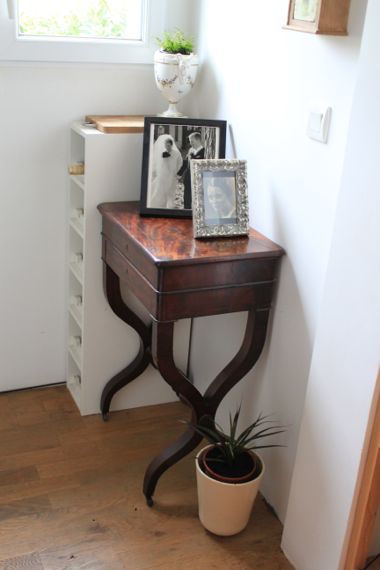 And as for you, friends – thank you for reading. Thank you for caring about me, my family, for listening to my words and for responding.