I know, I know. Such a judgy title, right? But let me give you a little background first so you don't think I'm trying to be holier-than-thou. (Because, of course, I'm not holier-than-thou and could only try to be if that were my aim).
I didn't really grow up in a family that swore; so whenever I did, it felt sort of awkward. Like a set of ill-fitting clothes, I was ready to shed that speech as soon as I got baptised. But even though I wasn't really tempted to swear on a regular basis, there have been a few times as a Christian that I have been so mad, I swore anyway. And there have been countless times I've been so mad I swore in my head, which God hears just as loudly as anything that comes out of my mouth. So … basically, not holy at all, unless you count the holiness that was bequeathed to me, and not earned by my own righteousness.
But I thought it was worth addressing the topic, because I do have a conviction that we should try to avoid swearing – both in speech, and (through dedicated effort) in our heads. There are three reasons why.
1. The most convincing reason for me is in James 3: 1-12. Really, you only need the last bit further down, but I think the whole thing is worth including.
Not many of you should become teachers, my fellow believers, because you know that we who teach will be judged more strictly. We all stumble in many ways. Anyone who is never at fault in what they say is perfect, able to keep their whole body in check.
When we put bits into the mouths of horses to make them obey us, we can turn the whole animal. Or take ships as an example. Although they are so large and are driven by strong winds, they are steered by a very small rudder wherever the pilot wants to go. Likewise, the tongue is a small part of the body, but it makes great boasts. Consider what a great forest is set on fire by a small spark. The tongue also is a fire, a world of evil among the parts of the body. It corrupts the whole body, sets the whole course of one's life on fire, and is itself set on fire by hell.
All kinds of animals, birds, reptiles and sea creatures are being tamed and have been tamed by mankind, but no human being can tame the tongue. It is a restless evil, full of deadly poison.
The tongue is compared to the rudder of a ship. It's tiny, but it can steer a mammoth sea vessel. It's compared to a spark, which is minuscule, but which can destroy an entire forest. The tongue is powerful, and we have to be careful how we wield it. This is true for not slandering or lying or gossiping. It's also true for not swearing. The scripture finishes by saying:
With the tongue we praise our Lord and Father, and with it we curse human beings, who have been made in God's likeness. Out of the same mouth come praise and cursing. My brothers and sisters, this should not be. Can both fresh water and salt water flow from the same spring? My brothers and sisters, can a fig-tree bear olives, or a grapevine bear figs? Neither can a salt spring produce fresh water.
What should come out of our mouths is fresh water – peace, joy, love, forgiveness, goodness, praise. When we swear … well, it's like salt water, and salt water ruins fresh water and makes it no longer drinkable.
Once I was given a salt lamp, and when it broke, we put it outside to wait for the monthly "larger items" garbage collection. In that time it rained, sending streams of salt water down the hill to the bottom, where it pooled on the cement and killed the green things that were growing there. Luckily they were weeds, sprouting up through the cracks. But salt water will not help green things to grow. Neither will swearing help the Spirit to flourish.
2. Angels don't swear. In Jude 9, it says:
But even the archangel Michael, when he was disputing with the devil about the body of Moses, did not himself dare to condemn him for slander but said, 'The Lord rebuke you!
Swearing often comes from anger or frustration, which is often (but not always) from a lack of faith. In this case, Michael's anger was righteous indignation, and not faithlessness, but even then he did not dare to curse.
Angels are pretty powerful creatures. In Genesis 19, two of them destroyed a whole plain of cities, including Sodom and Gomorrah. In 2 Kings 19:35, one angel put to death 185,000 soldiers. I wouldn't want to dare to do something even the angels won't do – which is to curse.
When the angel Gabriel appeared to Zechariah (after a period of 400 years of silence when God sent no prophets to speak to Israel), Zechariah had trouble believing his old and barren wife would conceive a son, who would be John the Baptist. See Gabriel's response. He was kind of stunned that someone didn't believe the Word of God he was sent to proclaim:
The angel said to him, 'I am Gabriel. I stand in the presence of God, and I have been sent to speak to you and to tell you this good news. And now you will be silent and not able to speak until the day this happens, because you did not believe my words, which will come true at their appointed time.'
Like, Dude! How can you not believe me? I stand in the presence of God!
The thing is, angels are constantly in the presence of God, and they don't curse. It just doesn't fit with the way things are going to be in heaven. So if heaven is our destination, it bears consideration.
3. Jesus warned us to watch our hearts and our speech. Let me show you one example of what I mean in Matthew 5:19-21.
You have heard that it was said to the people long ago, "You shall not murder, and anyone who murders will be subject to judgment." But I tell you that anyone who is angry with a brother or sister will be subject to judgment. Again, anyone who says to a brother or sister, "Raca," is answerable to the court. And anyone who says, "You fool!" will be in danger of the fire of hell.
In his day, the religious leaders had more authority over the Israelites than ours do over us today. But that's not necessarily bad news because then we don't waste our time trying to adjust our behaviour out of fear of people rather than fear of God.
Raca was an Aramaic term of contempt, similar to what we might say today when we say "F– him." Our pastor might not have any authority over us for saying it, but it's contrary to God's nature even to use the milder form of verbal abuse (fool, jerk, idiot, etc).
If you're my friend – Christian or not – don't think I am judging you. Don't apologise to me if you swear, or think that each time you do, I'm entertaining negative thoughts about you. I'm not.
I mean, this is not that hard of a battle for me to win (though still working on the internal dialogue). But were we to talk about greed, which is probably my greatest weakness, I wouldn't have a leg to stand on.
So tell me what you think. Do you swear as a Christian? And if so, do you feel guilty about it or do you think that certain situations warrant it?
If you're not a Christian, what do you think about swearing? And if it's a non-issue for you (as in, it's just like any other speech) do you think it's appropriate for children to use that language?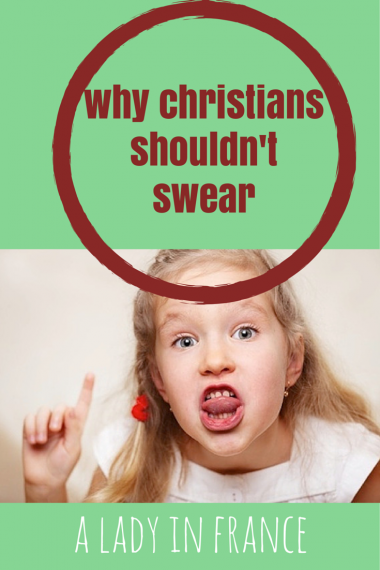 Droit d'auteur: tatyanagl / 123RF Banque d'images
Comments
I love to hear from you, friends. You can comment using the box below or your Facebook profile. But FB doesn't notify me of new comments, so if the post is more than a week old and you want to make sure I see your comment, it's better to use the comment box. Merci!