This is an easy, gluten-free dessert! It contains only meringue, whipped cream, frozen red berries and a red berry sauce, called "coulis." You can make it, or buy it on Amazon, and I suspect you can find it in your local supermarket too. I discovered the recipe from my mother-in-law, who got it from her sister-in-law in Grenoble. And who knows where she learned it?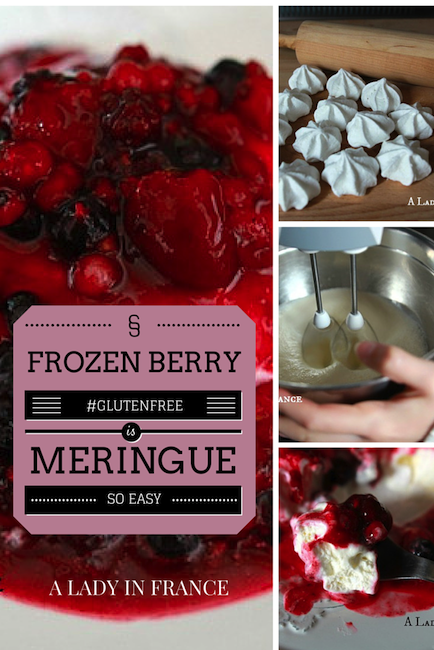 Whip 2 cups of heavy cream. I like to put the beaters and the bowl in the freezer ahead of time because I think it helps the cream to whip better. It needs to be quite stiff.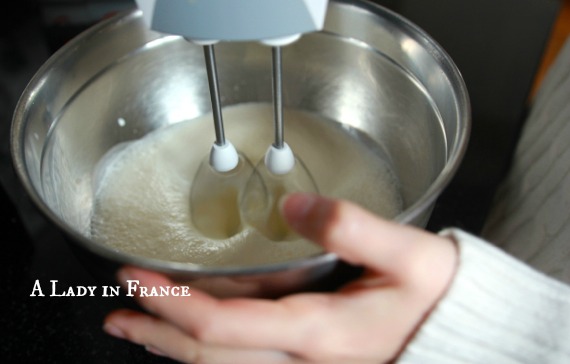 Then measure out 4 cups of meringues – you can make them, but store bought is easier.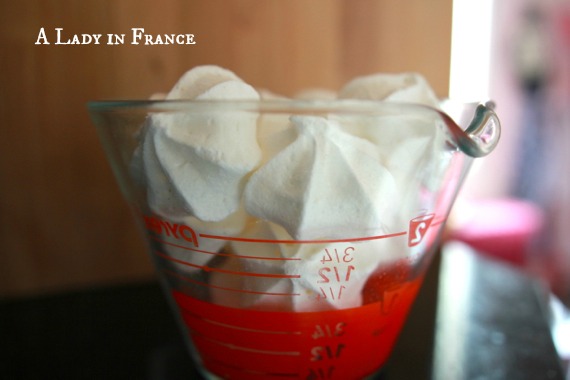 The meringues go from this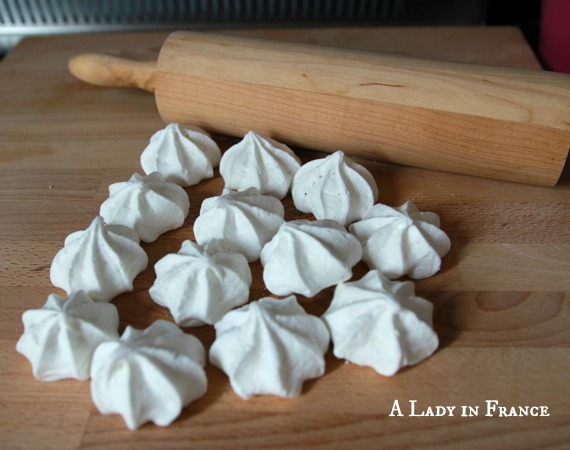 to this. Crush 'em!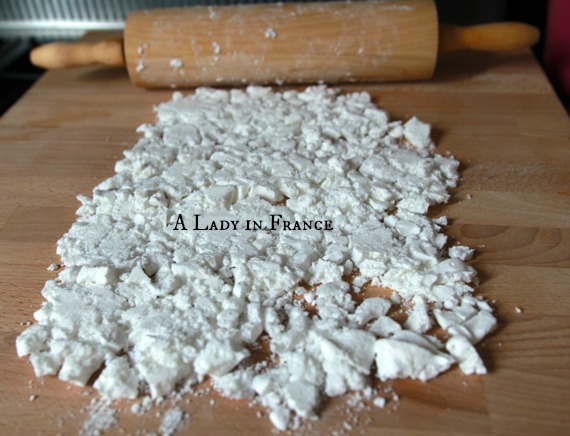 Mix the meringue bits with the whipped cream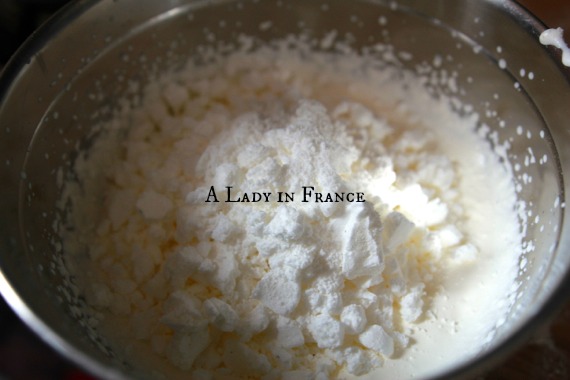 and get ready to freeze the mixture.
My mother-in-law always makes one big round of frozen meringue, but I had the idea to make individual ones.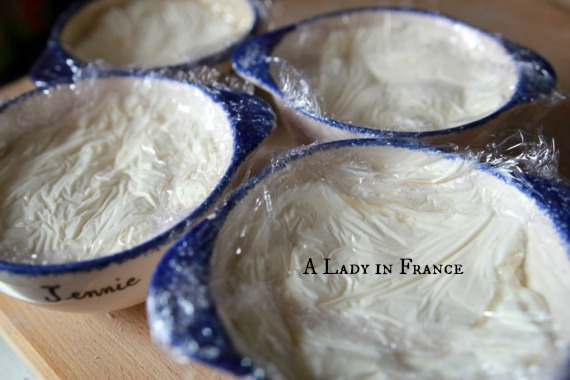 These cereal bowls make quite a large dessert portion, so ideally you would put them in smaller bowls. Use 6 to 8 small rounded bowls – ideally plastic bowls that are a little malleable. I used what I had. Cover with saran wrap.
Freeze them for at least 8 hours (though you can make this portion several days in advance).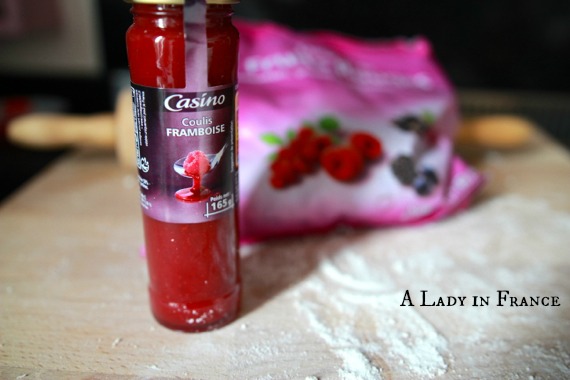 About an hour or two before you're going to serve the dessert, mix the coulis with the frozen berries and let it sit out.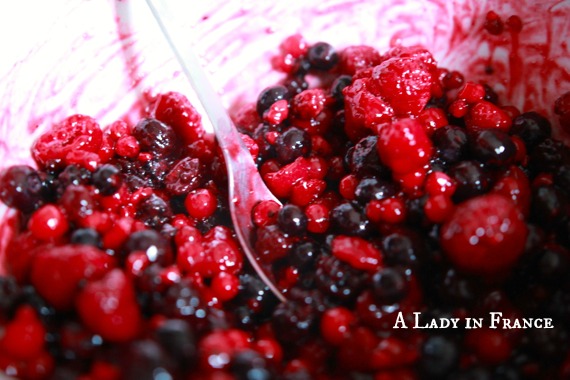 Take the frozen meringue out of the freezer and tip it onto a plate. Pour hot water on the bowl if you have to, but ideally you will have a plastic bowl that you can just twist and it will pop out.
Then divide the berry coulis mix over the top of each meringue. And then, you see, it looks like this.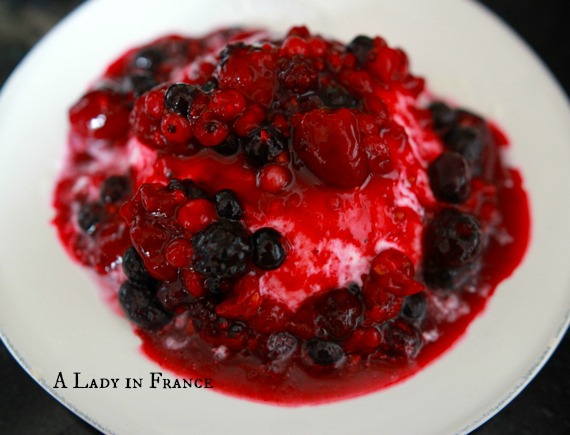 Mine melted a little too much from getting it out of the bowl with hot water, and the result was just a little less pretty.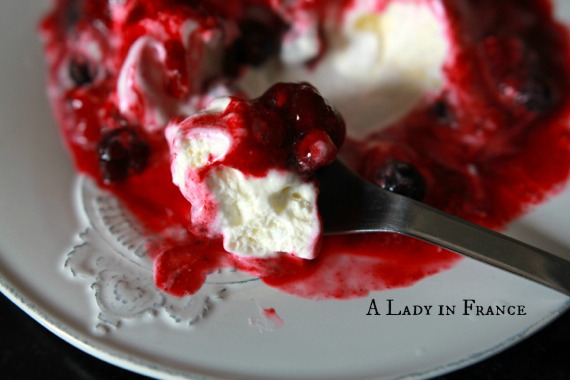 But the taste is oh-so beautiful.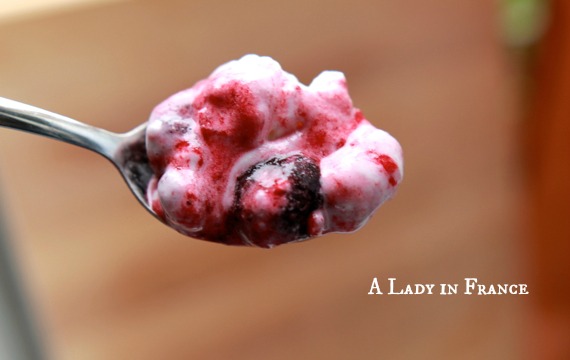 Frozen Berry Meringue
Ingredients
4 heaping cups of meringues
2 cups of whipping cream
1 package of frozen red berries
1 jar of red berry coulis
Instructions
Whip the cream.
Crush the meringues.
Mix the two together.
Divide mixture in 6-8 bowls, or in one large one.
Freeze for at least 8 hours
Reverse onto plate (with a rim).
Pour berry coulis on top. (Divide if making individual portions).
Comments
I love to hear from you, friends. You can comment using the box below or your Facebook profile. But FB doesn't notify me of new comments, so if the post is more than a week old and you want to make sure I see your comment, it's better to use the comment box. Merci!