Sometimes a post just needs a do-over because the photos weren't stellar or the recipe could be improved upon – and this gluten-free French apple tarte recipe is one such post.
When I blogged about it years ago, I was using a pre-made, frozen, gluten-free pie crust that I rolled out as a base. And I made the tarte in the evening when the light was not good for photos. I've changed all that for this post, and have included the pie crust recipe.
(If you are a new reader, or have just clicked over for the recipe, you can skip down to the next photo where the official post begins. These following few paragraphs are just personal news).
Before we get elbow-deep in gluten-free flour, I just wanted to touch base with you about the blog design. I would like to introduce you to the brilliance behind both my new blog look and my author website: Lauren Carns! Lauren is truly talented and is such a pleasure to work with. Even if you're not interested in blogging or website design, she blogs about other things and every post is like eye-candy. I hope you'll go check her out here.
There have been a few small glitches, which are pretty much resolved (I think). The posts weren't loading properly on the tablet or phone – the left-hand side was cut off. The blog was also slow to load and the e-mail subscribers were not getting the full post delivered to their inbox. That is all fixed now.
And have you clicked on my author website? You might have done so when it wasn't fully ready, but it is now.
My purpose in separating the two is so that I can reach people who have read my books, and who would like to know more. On the author website there is a place to sign up and receive newsletters, which I will send out on an infrequent basis, and which relate specifically to the books. Contrary to the author website, when you subscribe by e-mail to this blog, you're getting the posts sent by e-mail a couple times a week. Some people want infrequent book news; some people want frequent posts. Some people want both! I aim to please. 😉
Do you know, I have about twice as many ideas for posts as I have time to blog for? I don't see stopping this blog any time soon. But I have discovered this love for writing books too. At least I hope it's not a fluke.
I'm in the process of abridging my memoir so that it's less of a tome (would that I could manage the same in this post). I've taken an editing/writing class, which helped me to pinpoint the weaknesses in my romance novel. And I've also been studying up on the Regency period because I can't wait to attempt a novel set in that period. So many ideas! So little time! So much neuroses.
Fortunately the apple tarte is a breeze.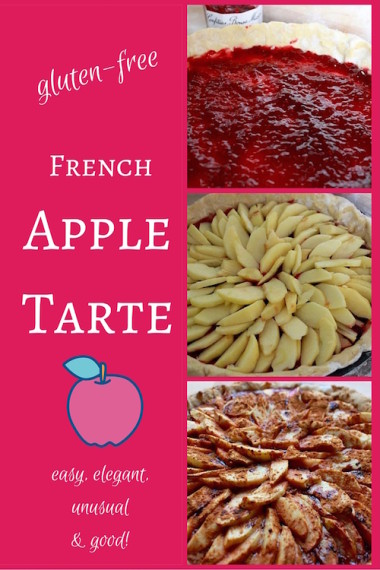 For the crust, put 125 grams of butter, 2 cups GF flour mix, a teaspoon of large grain sea salt, a half-cup confectioner sugar and a half-cup ground almonds, and one egg. (These extra ingredients help make a good crust that replaces the gluten in the flour).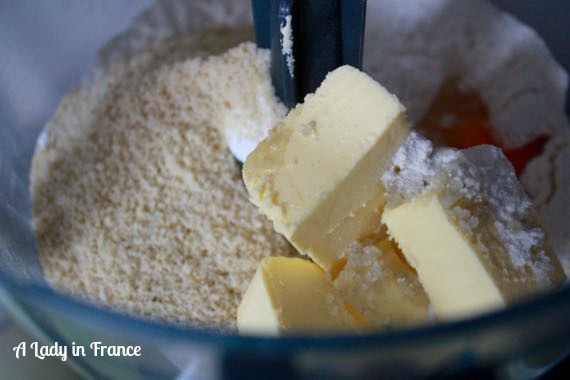 Blend. And if you feel like it's not forming a ball, put a tablespoon of water.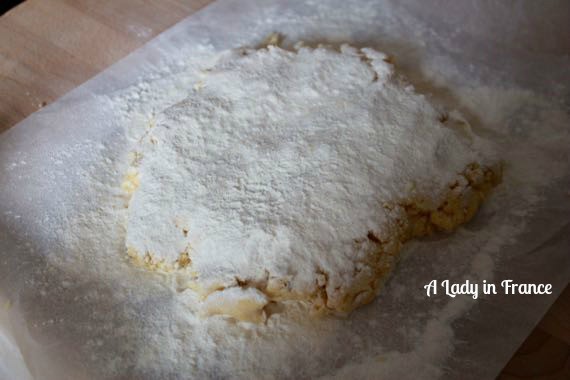 Make sure you put wax paper underneath when you're ready to roll out the dough. This enables you to pull the crust into the quiche pan in one go so that it's perfect. Like so.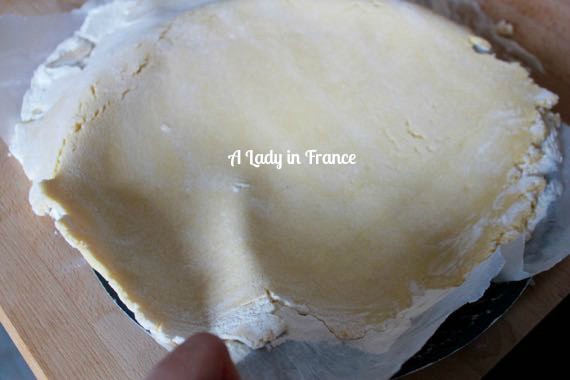 Yes – you want a quiche pan, instead of a pie pan. It's wider and more shallow. Pinch the edges and admire your handiwork.
Spread a generous amount of raspberry jam on the crust. I used about 5 heaping tablespoons.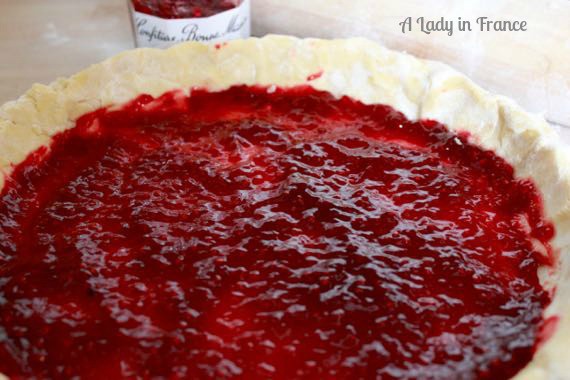 Then peel, core, and slice apples. I used 5 or 6 medium-sized ones. You need enough to fill the quiche pan with overlapping apples in concentric circles.
Because it's super pretty that way. See?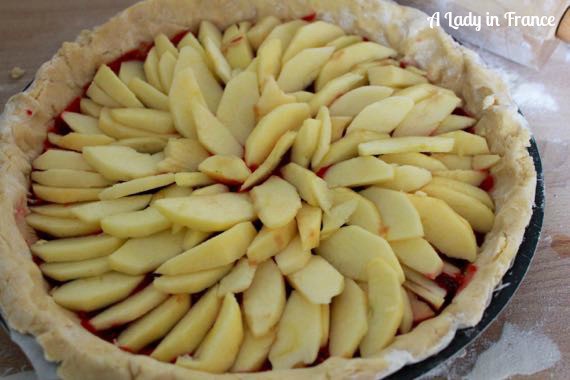 When that's done, sprinkle a generous amount of cinnamon (I tend to go overboard, but you can use less). Cut small chunks of butter to sprinkle on top – a couple tablespoons. Of course you can skip this step if you don't plan on eating the tarte warm. Or if you're more reasonable.
But otherwise, put the mini pats of butter, and then drizzle honey all over the top. The combination of butter and honey over the apples keeps them from drying out. And they taste divine.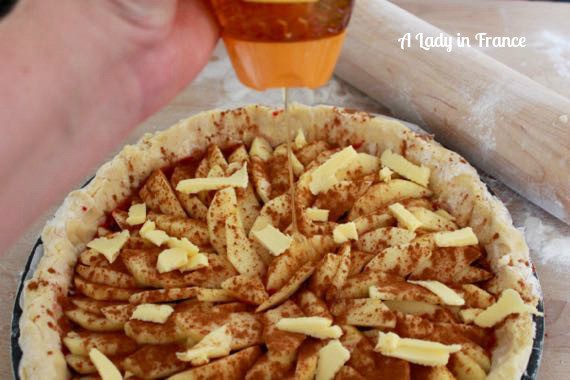 I like to cook at a low temperature (325°, or 160° in my hot oven) to properly cook the thick crust without burning it. And I think I had this in for about 45 minutes.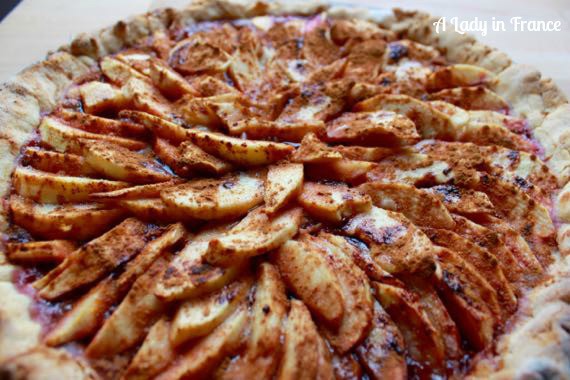 But even though I couldn't cut a slice to show you because we were celebrating two birthdays that night and I needed the tarte, can you see how the raspberry jam peeps through the apple slices?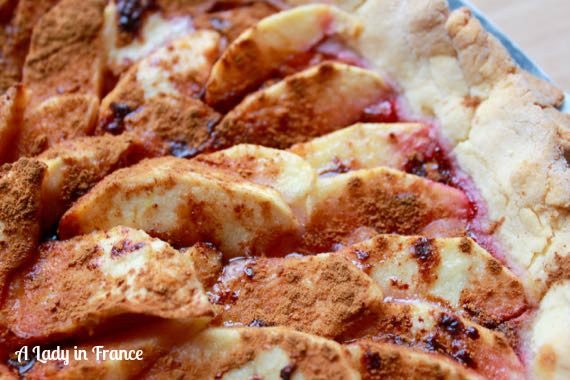 Can you see what a perfect and easy dessert this is for a fall day?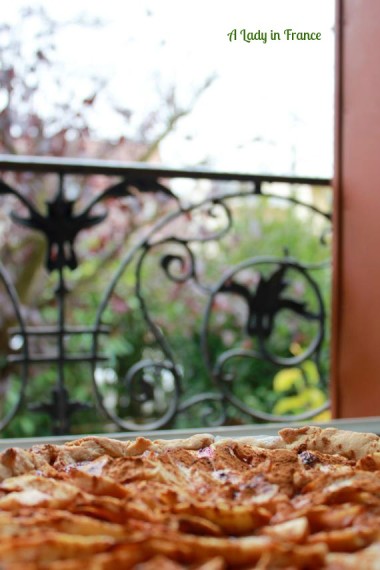 Can you see the other dessert I made for the 2-birthday occasion?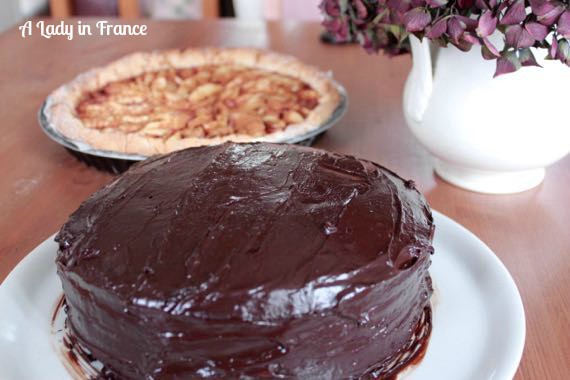 HA! Forgot all about the apples, didn't you. Don't worry. You can get the gluten-free mocha chocolate brownie cake with ganache topping right here.
Gluten-Free French Apple Tarte
Ingredients
Crust:
2 cups GF flour
125g butter (just over 4 oz)
1 egg
½ c confectioner sugar
½ almond flour
1 t large grain sea salt
Filling:
5-6 heaping tablespoons raspberry jam
5-6 medium apples
cinnamon
a couple of tablespoons butter
honey
Instructions
Preheat the oven to 325°F or 160°C
Blend crust ingredients, and roll it out on wax paper.
Pull it into pan and pinch edges.
Spread bottom with raspberry jam.
Peel, core and slice apples and cover crust in concentric circles.
Sprinkle cinnamon on top, add the pieces of butter, and drizzle honey over that.
Bake for 40-45 minutes, checking the oven to make sure it isn't overcooked.
Comments
I love to hear from you, friends. You can comment using the box below or your Facebook profile. But FB doesn't notify me of new comments, so if the post is more than a week old and you want to make sure I see your comment, it's better to use the comment box. Merci!