Some of us are forced to make gluten-free pumpkin pie from scratch for the simple reason that there's no pie filling available for purchase, and no ready-made gluten-free crust to be had. But that doesn't mean pumpkin pie lovers need go without, right? Here is your guide to GF pumpkin pie from scratch! (I know it's after Thanksgiving – shh). 😉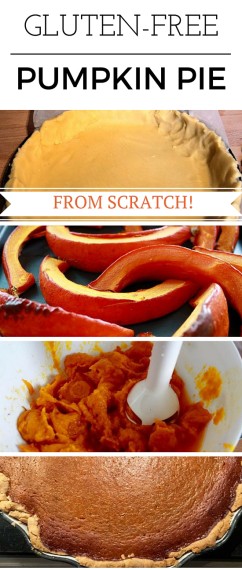 Choose small pumpkins. Ours don't have much flesh so I needed two to get just over 2 cups. Better to bake two to begin with so you don't have to go out and buy another like I did. You can always freeze the leftover purée.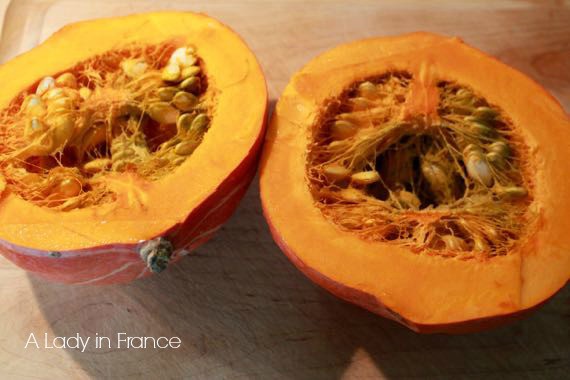 Scoop out the seeds with an ice cream scoop. (Yes, you can roast those. I didn't this time).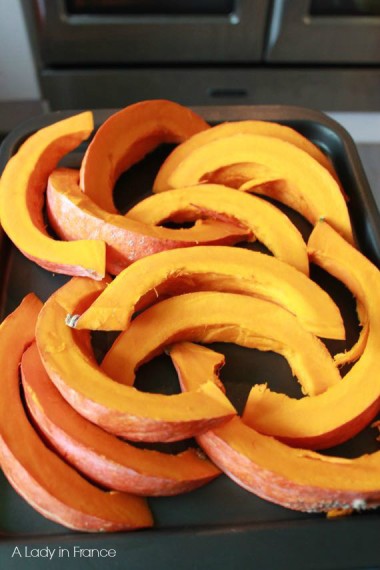 Cut in slices and place on them on their sides on a baking sheet. Bake for 45 minutes to an hour at 325° F. (160°C).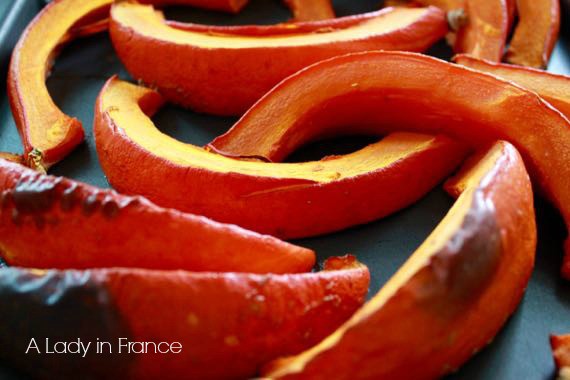 When they're done, scrape off the extra fiber on top of the pumpkin slices with a knife.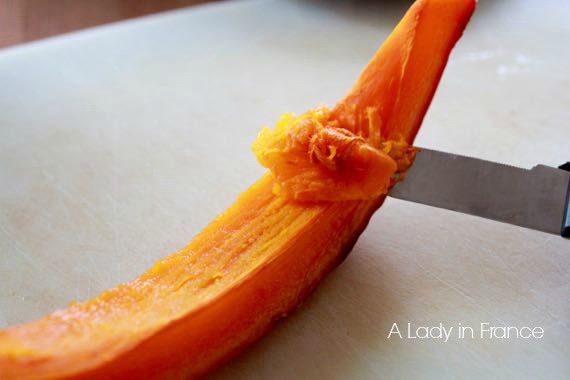 The remove the skin of the pumpkin from underneath.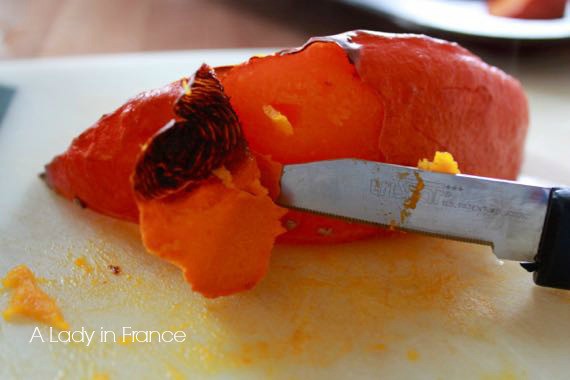 You're left with the pumpkin flesh,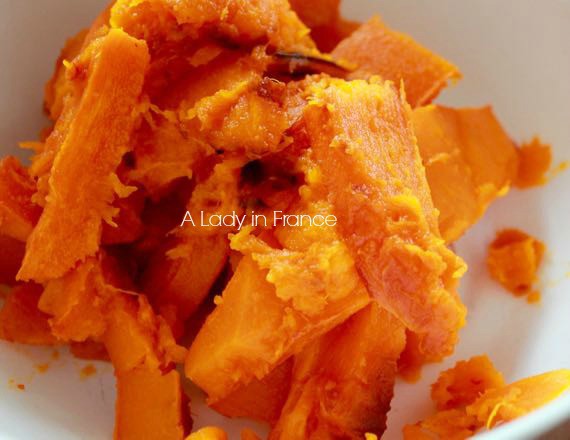 which you will then purée.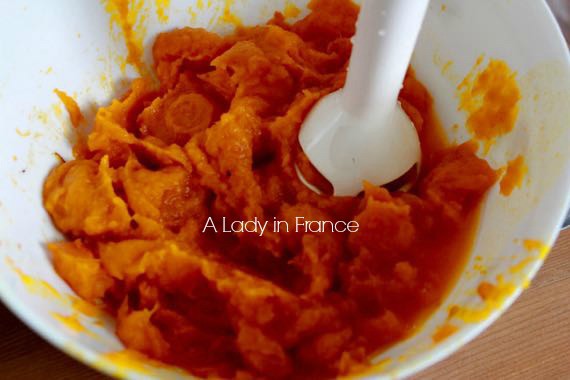 (I've found that immersion blender is the best method)
I needed to add a couple tablespoons of water to make the purée. This is why you want to bake the pumpkin instead of boiling it – so it's not watery. Choosing small pumpkins and removing the extra fiber also helps give you the consistency that you find in the canned variety. It's well and truly good – not stringy, not smelling like a barn, not watery, not lumpy. Those of you who have tried to make fresh pumpkin purée – and failed – will know exactly what I'm talking about.
For the pumpkin pie filling, I used Sally's Baking Addiction pie recipe, which really doesn't need to be improved upon (how I love the addition of pepper!).
The changes I made were by necessity. I needed the fresh purée, a GF crust, and I needed to make it without cinnamon because one of my guests was allergic. So I'll include my version of the recipe here, but you can click here for both the original pie recipe and the crannies.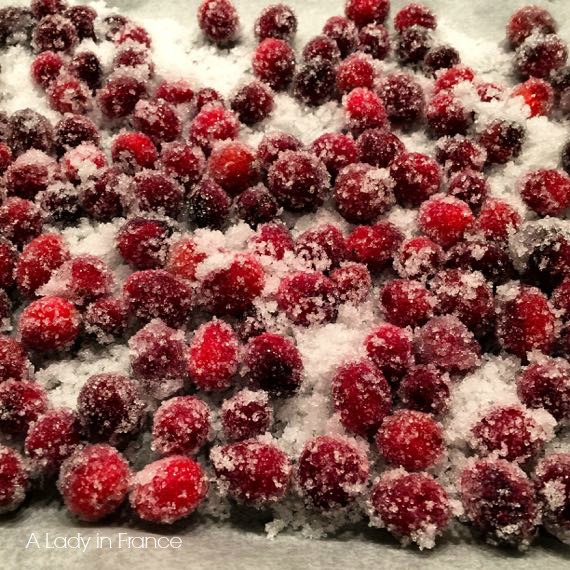 I just discovered crannies. I love crannies.
I took Sally's advice and made both the crannies and pumpkin pie filling well in advance. I stuck the purée, cream, eggs, and spices in the Cuisinart and whirled away. I upped the cloves and nutmeg in the recipe because I couldn't use cinnamon. It was really spectacular – unusual spices, creamy consistency … just perfect.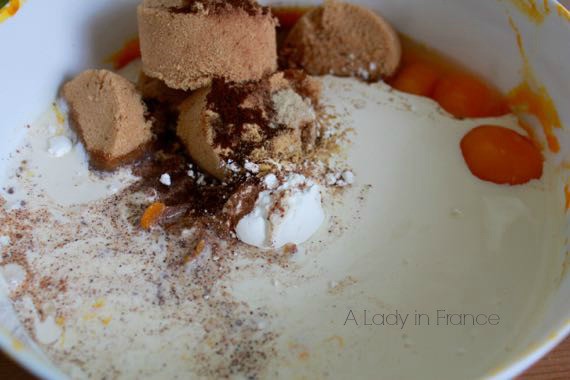 It's liquidy but the eggs make it firm right up in the oven. I refrigerated that for about 6 hours before I was ready to bake the pie.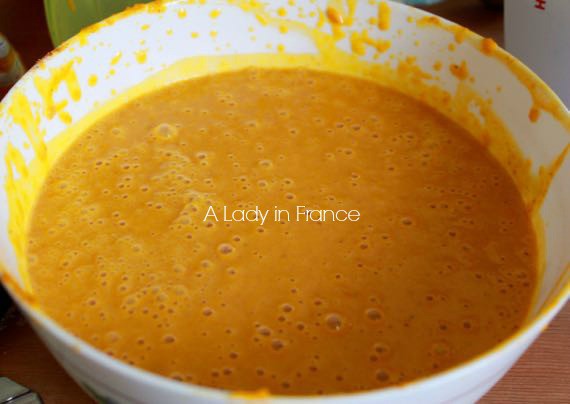 The gluten-free crust. This is my standard recipe: gluten-free flour, fresh butter, almond flour, confectioner sugar, an egg, and a teaspoon of large grain sea salt. That can also be made in the Cuisinart.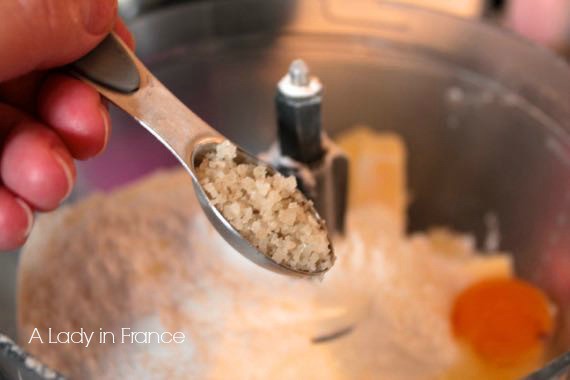 Roll it out on wax paper so it's easy to lift into the pan.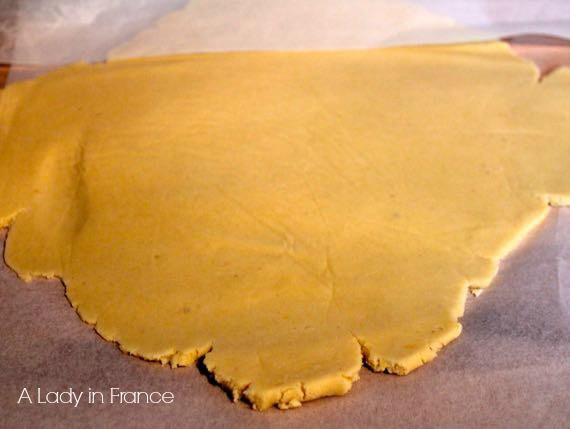 Then crimp the edges.
I used a large quiche pan because it was larger than my pie pan and about as deep. I still needed to put the extra pie filling in custard dishes with scraps of leftover pie crust.
I didn't have leaf cookie cutters or I would have made cute little leaves like Sally did.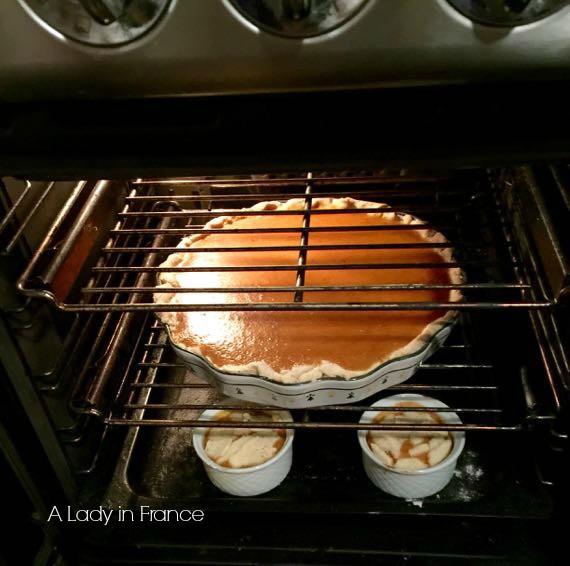 Bake at 325° for an hour until the pie is firm. My oven tends to overheat so if you find that you're nearing the end time and the pie is still runny in the middle, increase the temperature by 25°.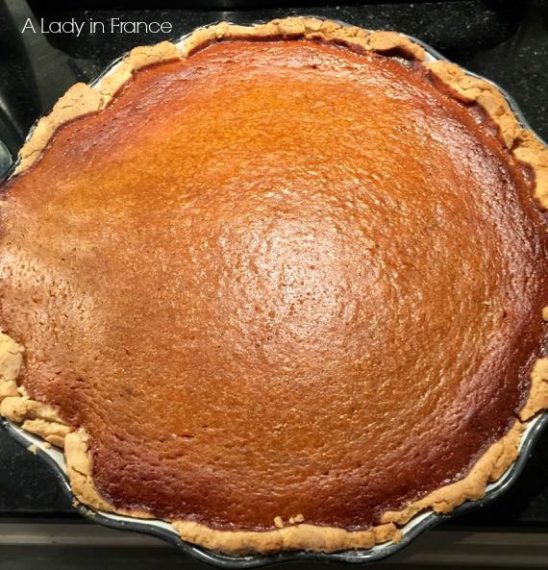 And then you have a pie.
I have failed you my friends, because instead of making this pie in the soft late-afternoon light so I could cut a slice for you, and put it on a pretty plate with a dollop of freshly whipped cream and a sprinkling of crannies, then photograph it … I served it at night, and warm for guests instead.
But we did eat it with freshly whipped cream, and we did sprinkle crannies on the top. And those French people who had never before tasted a pumpkin that was prepared sweet and spicy were simply besides themselves with delight.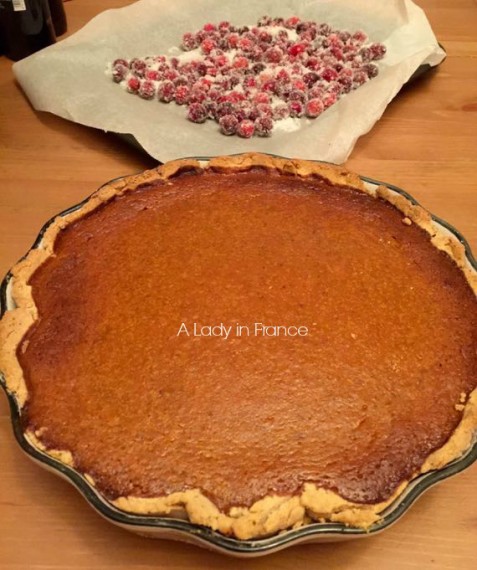 So it was all worth it.
Gluten-Free Pumpkin Pie from Scratch
Ingredients
Purée Filling:
2⅓ cups fresh pumpkin purée (2 small pumpkins)
3 large eggs
1 and ¼ cups light brown sugar
1 Tablespoon cornstarch
½ teaspoon salt
½ teaspoon ground ginger
¾ teaspoon nutmeg
½ teaspoon ground cloves
⅛ teaspoon white pepper
1 cup heavy cream
¼ cup whole milk
Gluten-free Crust
½ cup butter (125g)
½ c confectioner sugar
½ c almond flour
2 cups gluten-free flour blend
1 egg
1 teaspoon large grain sea salt
Instructions
For the purée, halve two small pumpkins and scoop out the seeds.
Slice and lay on a baking sheet. Bake for 45 minutes to an hour 325°F.
Scrape the fibres from the top of the pumpkin slices, then remove the skin from underneath.
Purée with an immersion blender, and add a tablespoon of water at a time if needed.
Prepare the filling, by putting all the ingredients in the Cuisinart and blending until smooth.
Cover with saran wrap and refrigerate overnight, or for as many hours in advance as possible.
Preheat the oven to 325°.
For the crust, put the ingredients in the Cuisinart and blend until it forms a ball.
Roll out on wax paper with extra GF flour.
Slide it into the pan, crimp the edges, and cut the excess wax paper.
Fill the large quiche pan / deep-dish pie pan with the filling.
Bake for an hour until the insides are firm.
Serve with crannies (see the link in my post) and fresh whipped cream.
Comments
I love to hear from you, friends. You can comment using the box below or your Facebook profile. But FB doesn't notify me of new comments, so if the post is more than a week old and you want to make sure I see your comment, it's better to use the comment box. Merci!