If you have a Mickey Mouse hat in your closet, dust-free, and ready to don for your next foray into the Magic Kingdom, this post is not for you.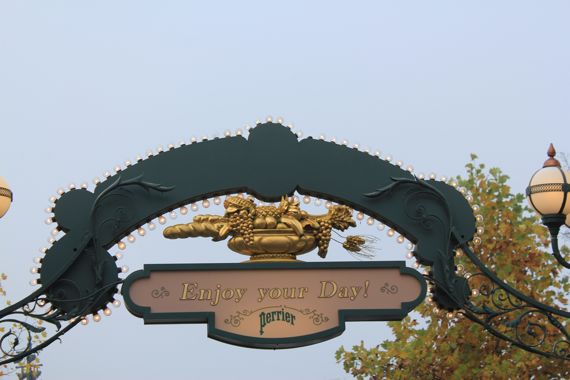 For the rest of you who would like to know how you can survive – just survive twelve hours of Disney hell, read on.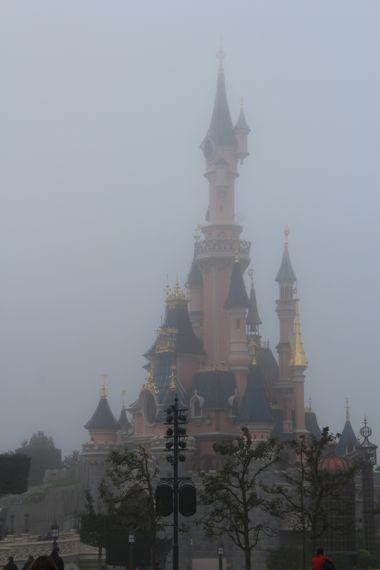 "Give me your tired (yes – most definitely that), your poor (oh you most certainly will be), your huddled masses (may it not rain on your ill-favored day) . . ."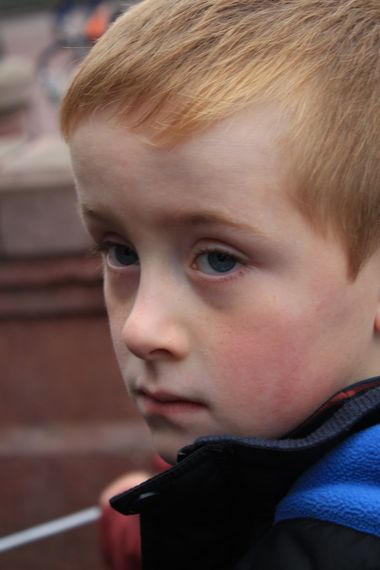 This post will contain tips for the first part of the day through to lunch time. Part Two will contain the rest of the day's tips plus a bonus feature – a printable itinerary with which you can avoid as much of the unpleasantness as possible, simply by following this fool-proof route.
Note: this itinerary is valid for parents of children ten and under who are Disney novices (both parents and kids).
First. If you are at Euro Disney, you are most likely coming by RER, or staying in a hotel. In the unlikely case that you are coming by car, when you arrive at the fork in the road that lets you choose between Disney Parking and TGV/Gare Parking – choose the latter. If you park in the Disney parking lot, you will have to take a bus from there to get to the park. But the train station parking lot is a few steps from the entrance to the park.
Next up – you will, of course, have printed out your tickets in advance from having bought them online to save yourselves having to wait for a very long time. Go past the booths straight to the turn-styles. Don't bother buying tickets for  both parks – you won't have time, your kids are too small, your patience too thin. (In my humble opinion).
If you've printed out your ticket and have this big piece of paper, they can still scan the bar code, so don't worry if you see people handing small tickets that get sucked through the turn-style – you're in the right place. The Fast Passes are in the code bar. I'll explain about that in a minute.
Note – there are lockers just on the inside and you can also rent strollers if need be.
Once you get in, (oh look – they're already decorating for Christmas – Quel Surprise!),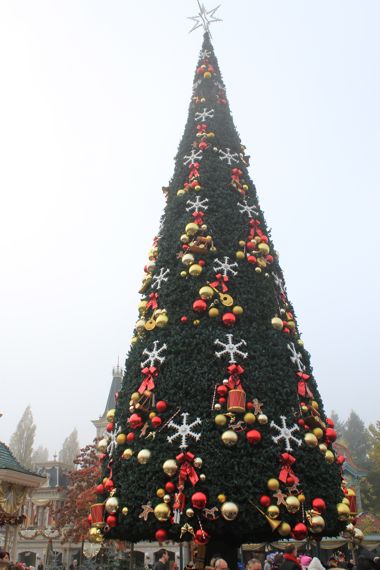 make a beeline for Buzz Lightyear. Go through Main Street and then veer right.
Don't bother with a Fast Pass for Buzz. If you've arrived there right at the opening (at ten o'clock) you shouldn't need it. This is the only time of day when Buzz will be possible.
Wait the 30 minutes to 1 hour in line, and do the 3 minute ride.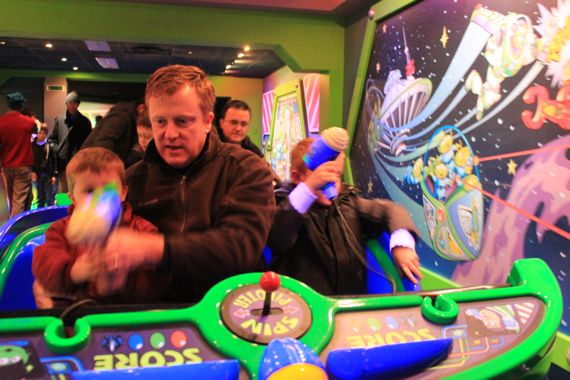 Next. Take the standard photos in front of Sleeping Beauty's castle.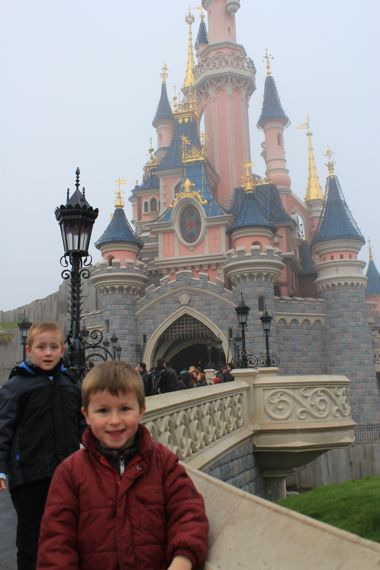 Do a quick tour inside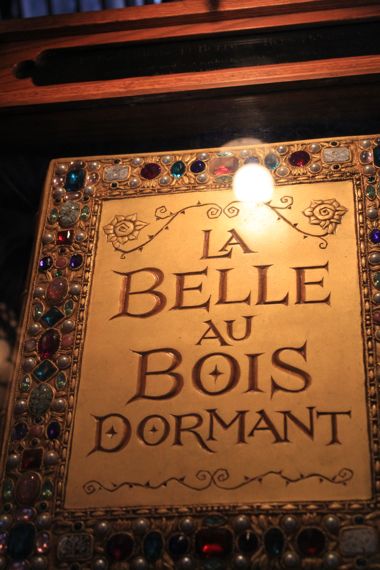 get a bird's eye look at the park and begrudgingly admit that it's cheerful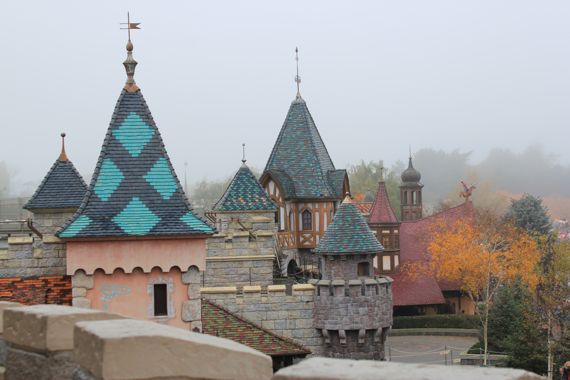 then go outside and try to lift the Excalibur sword.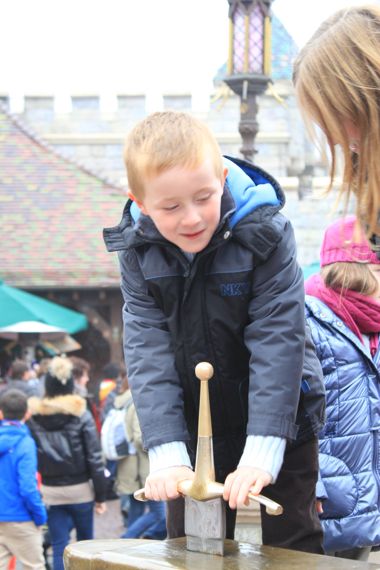 Oh look! You're right in front of the carousel (manège in French). May as well do that.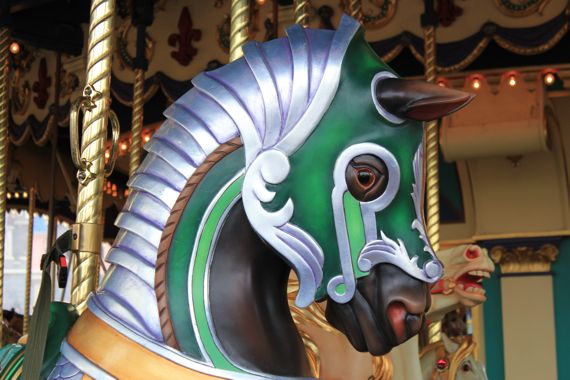 This is a very good time to divide and conquer, because the next step will be to get a Fast Pass for Peter Pan (before the manège if you must – but ideally one parent will go get the Fast Pass while the other waits in line with the children to go on the carousel).
Now, this is how those Fast Passes work. Each ticket gets you three Fast Passes, and they can get you on the more popular rides more quickly. You just go and scan your ticket near the ride of choice where it says "Fast Pass," it tells you what time your ride will be available in order to use the Fast Pass, and you print out the tickets if the time doesn't conflict with lunch (or your departure time – cough, cough).
The only hitch is that you can only use one Fast Pass at a time – one ride at a time, I mean. You can't run around getting Fast Passes for all the fun rides all at once. We were very lucky on Friday in that it was so cold and grey no one wanted to be there and we waited the 30 minutes per ride and didn't use the Fast Passes at all.
So. Back to the manège, when you're done with that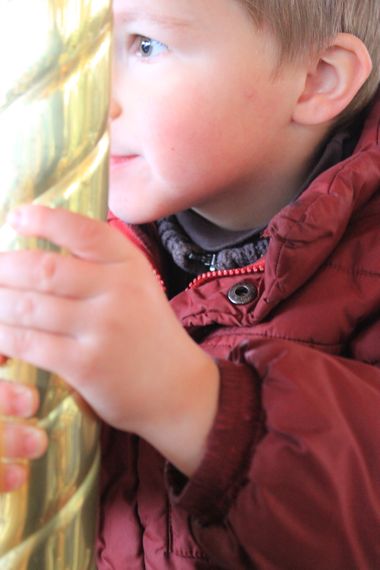 just give the rides a rest until lunch. Dumbo, Tea Cups, Orbitron – they're are all a waste of time, I'd say. It's a lot of stop and start to let passengers on and off, and you can do this at some other park. Disney has other interesting things to offer.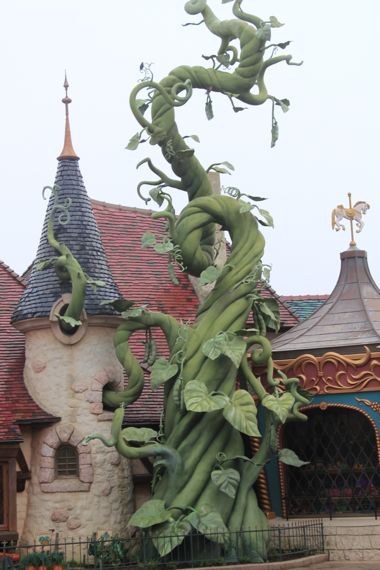 What? Is it nearly lunch time already? Why, we only just arrived! So grateful we have made lunch reservations by calling in advance like – weeks in advance, at 01-60-30-40-50. (If you're calling from outside of France, replace the 0 with 33).
Choose something in the park (not in the Studio, hotels or outside). I mean, you just got here after all – you don't want to leave again right away. Check the map online to see what restaurants look good to you near the castle. Choose something with waiter service if you can possibly afford it. Trust me. Those two hours sitting down out of the cold and noise without fighting for a table will make or break your day.
If the reservations are not for quite yet and you're freezing,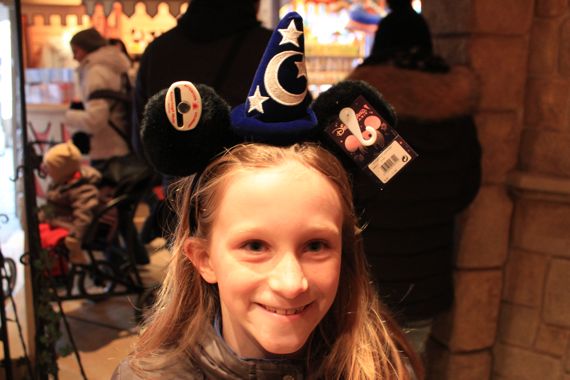 amuse your kids at one of the many stores with all the things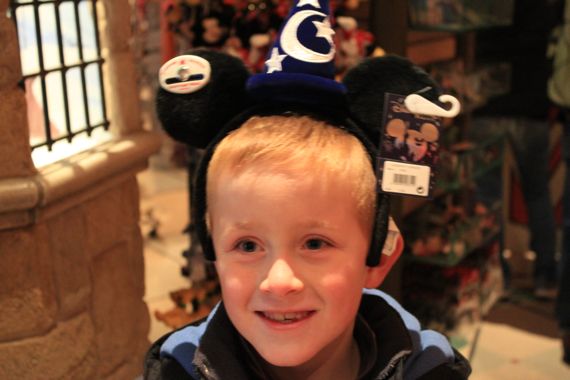 they are allowed to look at, but not buy.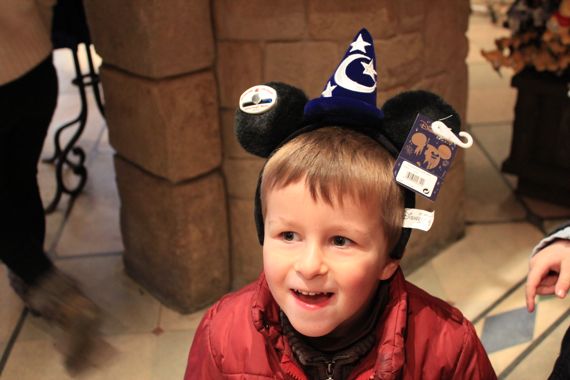 Now this was the one mistake we made this second time around. We booked our lunch again at the Auberge de Cendrillon (Cinderella's Hotel).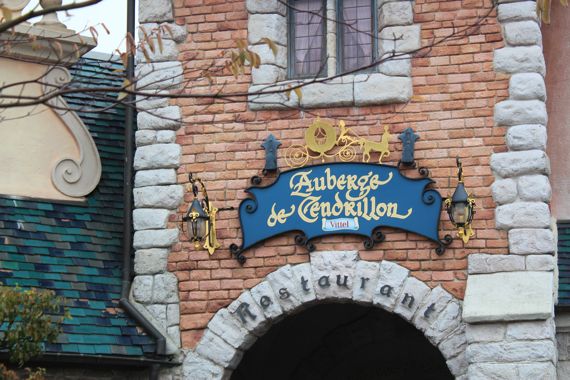 The first time there, we were completely seduced by the restaurant because the atmosphere was so peaceful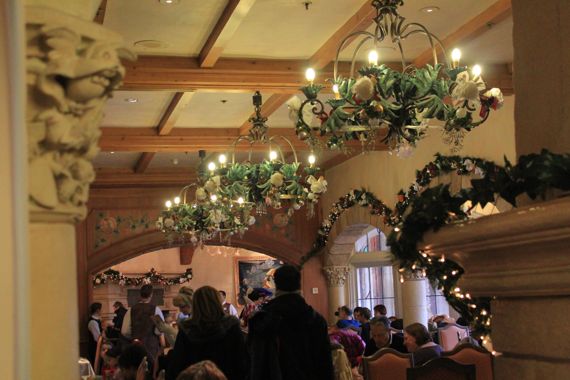 and there was just an endless parade of princesses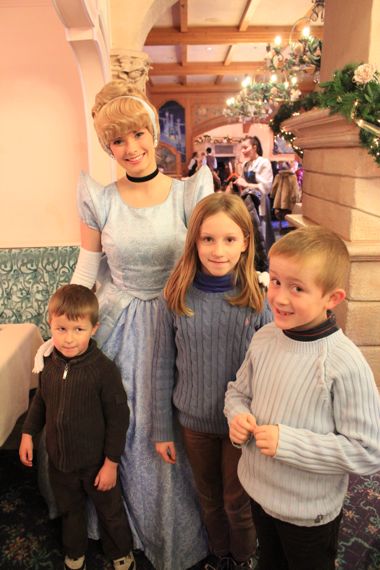 and princes (with no lines! They come to you!)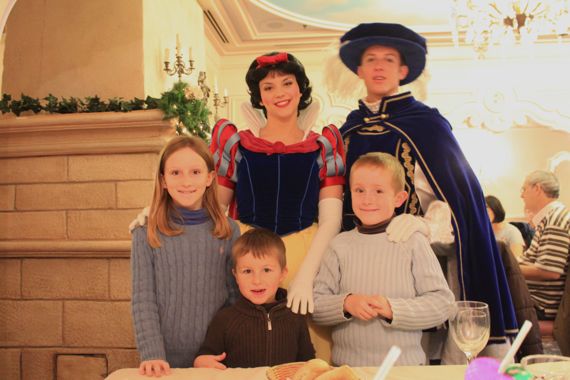 and mice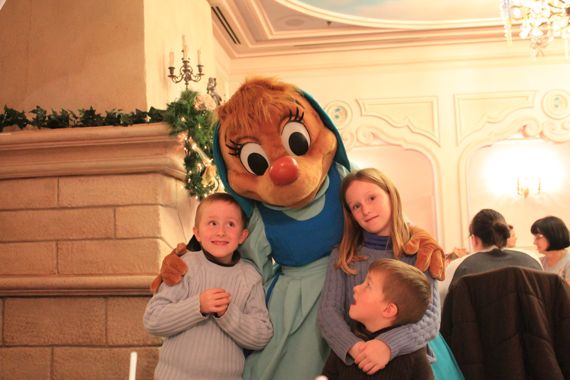 and the food was so good.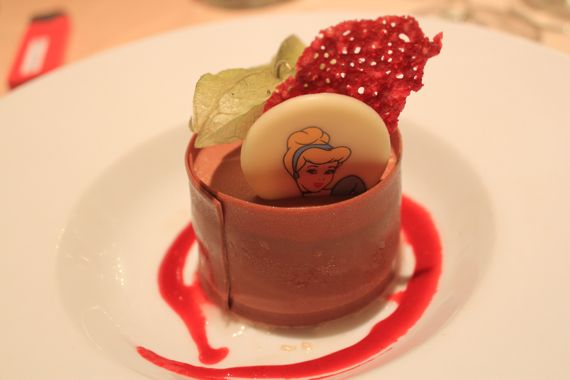 And we just sucked it up to pay the exorbitant price (this is a seriously expensive restaurant) because it was our anniversary and we wanted to splurge, and the the whole experience was worth it.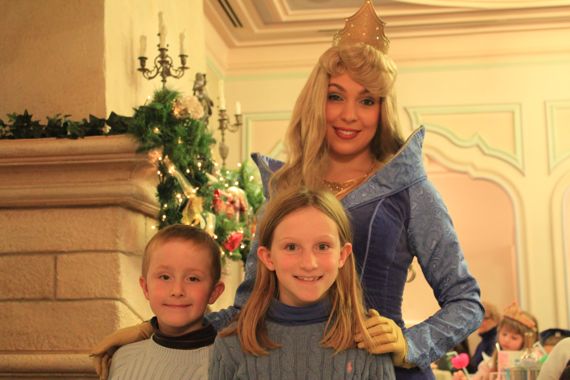 That was two years ago, when the prices were even less expensive and Petit Prince didn't pay.
Oh HO, but this time around was even more expensive and the food was such a disappointment – think lunch room vegetables.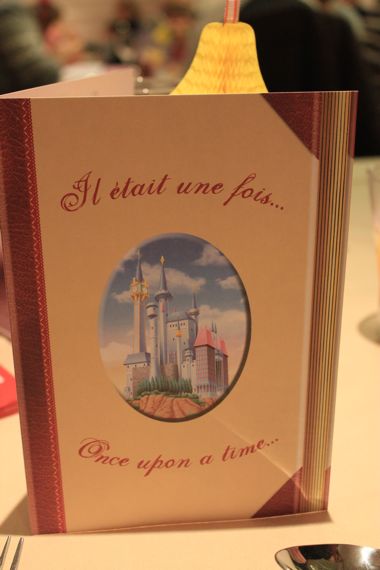 I could have done an infinitely better job at very little cost and minimal effort.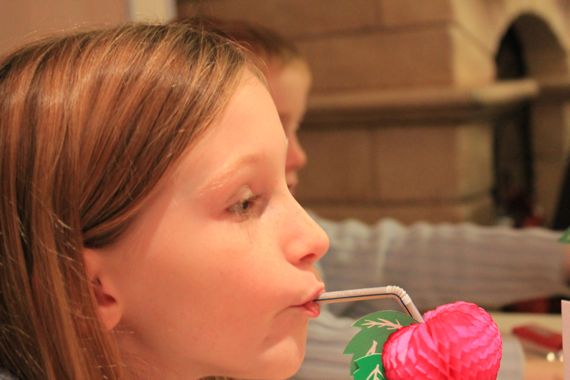 And there were only two toilets for a whole restaurant full of people.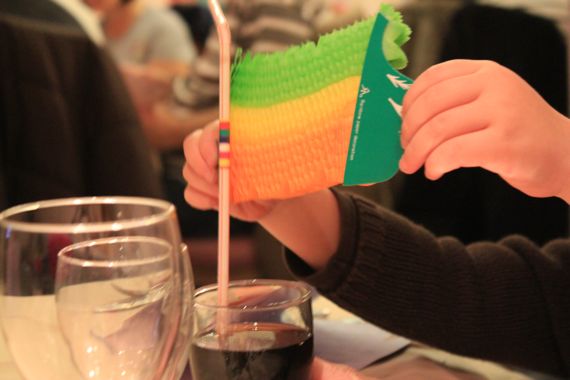 Seriously?
So never again – we liked the look of two restaurants on the other side of the park – the barbecue in Frontier Land and the nice table service of Pirates of the Caribbean, and both were much cheaper.
But the benefit was that we were all rested, we were all warm and fortified, and we were ready to tackle the rest of the day.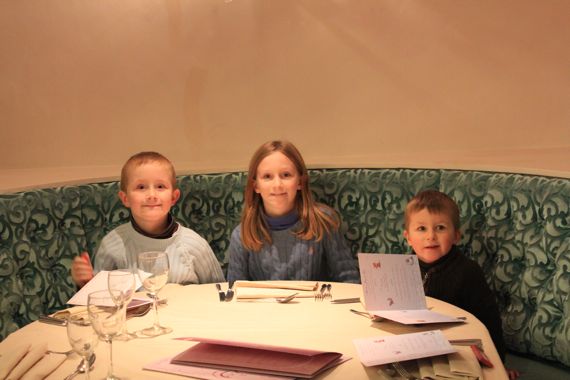 which is coming up next mateys – arrrrgh!!! (grrrrrr) (sob)
Comments
I love to hear from you, friends. You can comment using the box below or your Facebook profile. But FB doesn't notify me of new comments, so if the post is more than a week old and you want to make sure I see your comment, it's better to use the comment box. Merci!