I have been longing to start the new year, and with it, what has become a tradition of ours to fast for forty days at its beginning. The fast is a combination of food-free days (usually twice a week), sometimes denying pleasures such as TV or novels, giving up things we love like coffee, cheese, sweets, bread, etc. and "adding" more prayer. Believe me, the fasting has gotten a lot easier over the years and has become for us a joy.
The aim of our fasts is always to get closer to God, but we usually add more specific goals (or pleas), like growing in unity as a church, or helping friends to know God who wish it, or getting out of debt, or overcoming some challenge … I wrote about fasting here.
Some years – and this one in particular – I'm anxious to start because I have indulged in excess over the holidays (or, more accurately, ever since the cold weather started) and, not only do I want to lose some extra weight, but I long to be free of dissipate habits. I want to get back to the cleanliness of putting God first. I have accepted that I will never have a completely pure, godly attitude towards fasting, free from all ulterior motives. I accept it, and I plunge ahead anyway.
This year, for the first time in many years, I have set New Year's resolutions. When I was younger, I set them every year because I believed that by setting them, they would automatically come to pass. Then, disillusioned, I spent many years as a "sadder, but wiser" girl and set none at all. But this year, I feel that a few goals is not a bad thing.
I think that (for me, anyway), setting goals is a way of striving for perfection. And when you're young, you still believe perfection is attainable. I may have scoffed at voicing such a thought openly, but I most certainly believed it in my heart of hearts – a perfect Prince Charming awaits, a perfect body is just at the end of the road of a tiny bit of restraint, perfect children will be the result of gentle, loving guidance, etc.
Though I did, indeed, find my Prince Charming, the rest of the perfection is all a wash. My middle-aged body is not at all forgiving, my old house is doomed to dust and peeling paint and mold, and our finances have not allowed us to replace our 1992 Toyota Corolla, or our sagging couches with frayed armrests, or our bed that can envelope us like a pita. Imperfection meets my eyes wherever I look.
It's not surprising that we hope for perfection – despite all assurance to the contrary of its attainability. It's because of the tantalising hints we read in the scriptures of what's to come, and the urging to prepare for it.
Be perfect, therefore, as your heavenly Father is perfect. (Mt 5:48)
Aim for perfection (2 Cor 13:11)
Let perseverance finish its work so that you may be mature and complete, not lacking anything. (James 1:4)
But as we read such hopeful urgings, it's easy to forget that we only reach perfection through suffering and grace. This can be a sobering reflection, but it doesn't have to be. Jesus is the author – the pioneer – of our faith and he suffered to bring us glory.
In bringing many sons and daughters to glory, it was fitting that God, for whom and through whom everything exists, should make the author of their salvation perfect through what he suffered. (Hebrews 2:10)
I don't think it's because he suffered that we have to suffer – but rather, quite the reverse! I think he saw our great suffering on earth, and he came to share it with us (enduring far more than we have ever endured) so that he could bring us into glory and end all suffering.
We know that the whole creation has been groaning as in the pains of childbirth right up to the present time. Not only so, but we ourselves, who have the firstfruits of the Spirit, groan inwardly as we wait eagerly for our adoption to sonship, the redemption of our bodies. (Romans 8:22-23)
Can you relate to this? We groan inwardly, we wait eagerly for the redemption of our bodies. Our bodies and our lives here on earth will never attain perfection. Jesus knew that, and he came down to bridge the gap.
But just because we cannot achieve perfection by our own efforts, we don't simply give up. Look here:
Not that I have already obtained all this, or have already arrived at my goal, but I press on to take hold of that for which Christ Jesus took hold of me.
or a version (NRSV) of this same scripture that I most particularly adore:
Not that I have already obtained this or have already reached the goal; but I press on to make it my own, because Christ Jesus has made me his own.
I don't give up on the goal of striving for heaven and everything perfect until I own the goal. I do this because Jesus didn't give up until he had taken hold of me – until he had made me his own.
In the end, it is God who brings us to perfection. Obviously. It is his grace, which accomplishes this. That is the core message of the entire Bible, from the Old Testament to the New. But you can see it clearly in a couple of scriptures like this:
In the same way, the Spirit helps us in our weakness. We do not know what we ought to pray for, but the Spirit himself intercedes for us with groans words cannot express. (Romans 8:26)
or here:
being confident of this, that he who began a good work in you will carry it on to completion until the day of Christ Jesus. (Philippians 1:6)
to name just two. God has our back, even when it comes to praying for the longings we cannot articulate. He will bring us to perfection, and love us in all our dirt until we get there.
I know not everyone struggles with this frustration over imperfection to the degree that I do, but I also know that I'm not the only one. If perfection will truly not exist until heaven, then the scripture in 1 Tim 6:6 is very valuable to us:
But godliness with contentment is great gain.
We must strive always for godliness and all its inherent perfection because that is what Jesus and the prophets urge us to do. So by all means, let us make our resolutions and press on towards the goal.
But we must be content with an inferior result until we are adopted as sons and daughters. That allows us to laugh at the imperfections, the stresses, the silliness, the flaws, the stains on the shirt, the temper tantrums in the grocery store, the extra notch on the belt, the second-hand clothing, the peeling paint, the weeds in the garden. Godliness with contentment.
That is great gain.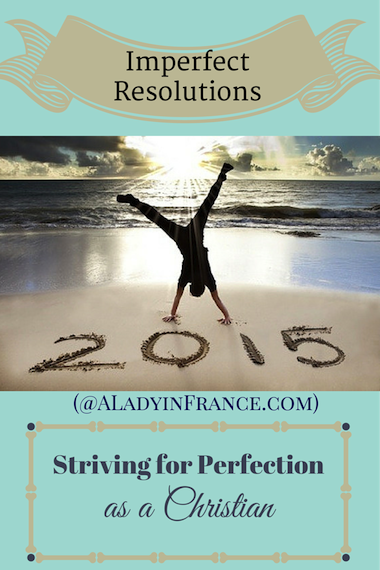 So tell me about you. Do you struggle with perfection? Are you making New Year's Resolutions?
Comments
I love to hear from you, friends. You can comment using the box below or your Facebook profile. But FB doesn't notify me of new comments, so if the post is more than a week old and you want to make sure I see your comment, it's better to use the comment box. Merci!