My favorite people to spend time with are the ones who laugh, who make me laugh. They are the ones who can drop everything at a moment's notice to grieve with me, to cry with me, to listen to me, but who generally see the world as I do: 10% sorrowful and 90% ridiculous.
I love to laugh – at myself, first and foremost – at others (with others), if they'll let me. Criticism no longer appeals to me, sarcasm doesn't work for me. But laughter? Come along with the feeblest of jokes and I'm ready to see the humor.
My husband makes me laugh.
I won't bore you with all the intimate jokes and sallies, but he and I are often silly together (when we're not yelling at our kids to get your shoes on for the tenth time)! What I appreciate the most is that he doesn't look at all like someone who could make a joke. Before he married me, people used to say he was like a block of ice; no one knew what went on inside and his facial expressions betrayed nothing. And when we first started dating, he thought I was being overly-encouraging when I laughed at his jokes, not realizing that I truly found him funny.
Actually a lot of people tell me that they don't expect me to be funny either, and are surprised when I'm constantly teasing them. It's not my fault; I have a nose that was made to snub but a soul that was made to grin.
I used to take myself much more seriously.
There was a guy I know named Steve. He pursued our friendship persistently, and I would always blow him off. I knew that he wasn't interested in me romantically so I don't know why I was so opposed to the friendship, but I always found excuses to not hang out, saying how busy I was.
Once when he was walking me home I threw him a small bone, saying that I wasn't very good at male friendships and that was the reason I always blew him off. He called my bluff and said, "Fair enough. But if you don't change, people are going to start thinking you're an ice queen."
Ouch.
I made a real effort at the friendship after that, and in fact, started being warmer towards all the men in my entourage.  That was about the time I started dating my husband. I'm sure the training Steve provided me with helped a great deal in keeping me real for the eventual man of my dreams. When Steve saw that I was about to be safely married off, he gave me a beautiful congratulations card.  It said, "The ice has melted. A queen has emerged."
Steve is a good friend.
Now I rarely ever take myself seriously. I sit amidst the ruins of my dignity and accomplishments and laugh and laugh. If anyone else wants to climb in with me, tant mieux (all the better).  If you want to laugh at me, I can live with that.  If you want to scorn me, we probably wouldn't get along anyway.
I remember the period of deep depression after the car accident and my brother's suicide when I was literally hanging on to life by a thread. That was the image that appeared before me often as I was lying in my bed staring at the ceiling, wishing I could die.
I remember going to the doctor for a sore throat and walking out of the office with a prescription for anti-depressants, never knowing quite what hit me (and feeling so ashamed that I needed them in the first place). But the round room of depression that I was in – the room with the low ceiling that forced my head downwards and my gaze on the dirty floor, the room with all the doors that led to solutions (but every door was locked) – that room blew open with the medicine and I was finally able to look up at the sky. I could feel hunger again, I could breathe again; I could feel things.
At that time I was reading Pickwick Papers by Charles Dickens and laughing and laughing (even on the train in public, where I would have to close the book and control myself before they came and locked me away). I was a bit maniacal perhaps, but I was laughing. Thank you Mr. Dickens.
I remember the friend I had in my co-teacher in Taiwan whose English name was Elva. But it was really Elva-Guava because I was trying to teach the children how to make the "v" sound and so had them chant all the words I could think of with "v" in it: "seven, eleven, Elva, Guava."  The entire school chanted "Elva Guava" when she walked in the gate each morning.
Once Elva was staying at my house and I came home from the market with a huge bag of guavas. "Hey look what I got Elva," I called up the stairs.
She came down, saw the bag, and immediately quipped, "Oh it's my family." (Thanks for the humor Elva – this was also during my dark period).
Thank you to all my friends who come and sit with me amidst the ruins. Thank you blogger friends who make me laugh on a regular basis, who are willing to laugh with me (even at me).
Thank you my darling family members who are always up for a joke.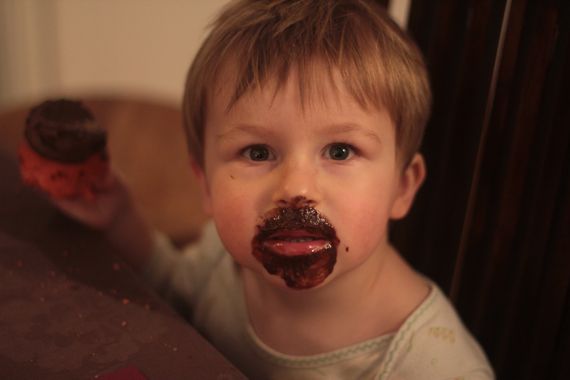 Oh yes, this was intentional. He had a whole audience around him laughing at his antics, as he buried his face in the cupcake, turned to the side with narrowed eyes, and then lunged at the cupcake with a growl, tearing into it like a savage animal with its prey. This went on for some time as his captive audience looked on in delight, but the joke ended abruptly when he accidentally bit his own finger and started howling in pain.
You see? 90% laughter and 10% grief.  (And plenty of the ridiculous).
Comments
I love to hear from you, friends. You can comment using the box below or your Facebook profile. But FB doesn't notify me of new comments, so if the post is more than a week old and you want to make sure I see your comment, it's better to use the comment box. Merci!