How was 2013, friends? I know for some it was a good year, and you hope (as I also hope for you) that 2014 will be the same. For others it held sorrows, struggles, and challenges that seemed insurmountable at times. I hope this coming year will be different. Better.
For me, 2013 was a pretty good year. I started teaching more often, but my Wednesdays became easier than they've been for the past two years. I was able to do a 40-day fast with my husband – the third one we've done together – and this brought us closer to God and to each other. I redesigned my blog and added these weekly faith posts. Oh, and my book came out! Very exciting, but more on that another day.
Last year at this time, my plan was to publish my book a chapter at a time on this blog, which I did. So the new year had some focus for me. But other than that, there wasn't really anything significant that I was aiming for in 2013.
However, the year before that, I was grieving the baby I lost the day after Christmas. And on that New Year's Eve, I was both anxious to leave 2011 behind, and also pessimistic about what 2012 would hold.
Regardless of whether the new year sort of slips through in anonymity and mundaneness, whether it is welcomed with relief and hope for something better, or whether we bring it in riding high on a breeze that we hope will continue for years to come, a new year is something new.
A new year is a new thing, just like each new day is a new thing. And we probably need these fresh starts more than we know.
Because of the Lord's great love we are not consumed,
    for his compassions never fail.
They are new every morning;
 (Lam 3:22-23)
It's amazing what a night's rest can bring. If I've eaten too much one day, I always feel better the next day after a good night's sleep, and I'm relieved to have a fresh start, full of possibilities. If I've exhausted myself from moving, cleaning, hosting – or even if I'm tired from illness or jet lag – the next day I feel strengthened. I might still be sore from physical exertion or suffering from some remaining fatigue, but it's different – better. I feel restored.
My husband once mused that falling asleep each night and waking up again each morning is God's way of reassuring us of eternal life. It's his way of reassuring us that when we fall into the big sleep, we will wake up again.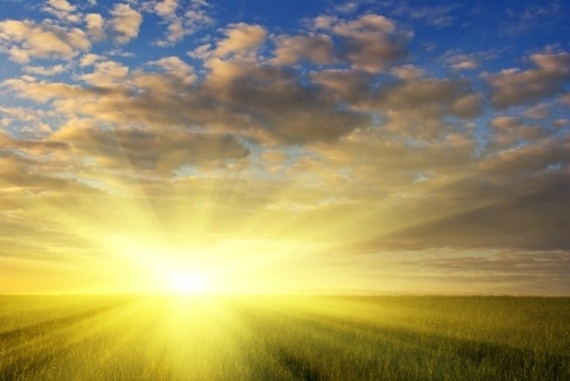 We need newness on a regular basis. As one suffering from depression, there are times when I can't possibly dig myself into a deeper hole with my thoughts. I'm wading through the mental muck, and it's so bad, it just can't get any worse.  This is the time when I need something new. It's then that I remember this:
I will give you a new heart and put a new spirit in you; I will remove from you your heart of stone and give you a heart of flesh.  (Ezekial 36:26)
God can give me something new, even when I've already tried to mentally attack my situation from different angles, only to fail each time. He has a perspective I just don't have, and he's willing to give it to me.
When I've been in a state of anguish for so long my heart has only grown hard, he replaces it with one that can feel things again. And weeping brings relief – and change.
There are other times when it's not my thoughts that bind me like heavy chains, but circumstances, difficulties . . . life. Sometimes there is nothing I can do to change my situation, simply because I can't figure out how to extricate myself from the problem. I look all around me for the solution, but I'm still back at sqaure one. And it's then that I remember this:
"Forget the former things;
do not dwell on the past.
See, I am doing a new thing!
Now it springs up; do you not perceive it?
(Isaiah 43:18-19)
God knows how he's going to free you from your problem before you even enter the tricky situation. He's got you covered.
How are you today? Are you heavy-hearted or feeling shiny and bright? Are your thoughts strangling you or lifting you up? Is your life flowing smoothly, or is it a barren wasteland of desolation? No matter what, it's a new year. A new day.
And new things are coming your way.
* * * * *
Image credit: shaman1006 / 123RF Banque d'images
Comments
I love to hear from you, friends. You can comment using the box below or your Facebook profile. But FB doesn't notify me of new comments, so if the post is more than a week old and you want to make sure I see your comment, it's better to use the comment box. Merci!