Would you like to know what I'm good at?
Languages.
I always assume I'm going to understand someone who is speaking to me in a language I do not know, or that I'll discern what is written in a language I haven't learned.
When I went to my Polish friend's house, I saw a large poster with three old fashioned boots at the bottom and the words Trzej Muszkieterowie. I knew right away what it meant, but I asked the other non-Polish speakers in the room if they knew what it was and none of them knew.
Have you figured out yet what it means?
(The Three Musketeers)
After a year in Taiwan, I was able to translate the school meeting that was held in Mandarin with some sort of accuracy. I had learned to speak Chinese through friends and on the streets without having taken any classes. The following year that I was there, I had friends that only spoke Chinese and we communicated with ease.
Of course I have now learned that without use, I am doomed to lose it all. When I am at the Conservatory with my daughter and racking my brains to translate what's going on for the Chinese woman who brings her grand-daughter each week, I realize how stupid it feels to have once known how to say something and to no longer be able to.
Or when I listen to her converse with the Chinese gentleman who also brings his granddaughter (both of them encouraging me and congratulating me on my Mandarin as I look at them with blank eyes and a vapid smile), I learn that words I once used glibly I now only recognize but cannot wring sense from.
But let's get back to bragging. Here in France, I can translate simultaneously. I can translate at the same pace that someone is speaking without missing a beat. I can do that for a speech (if I am familiar with the subject matter, like a sermon at church) or I can do that for conversations, flipping back and forth in French and English for simultaneous conversation that is as rapid as if the two parties spoke the same language.

Sometimes I surprise myself.
I totally just bragged, I know. Cheeky, huh?
I first fell in love with the store Geneviève Lethu when I lived in France and thought maybe I would marry in France and have a registry there. And then Sir's cousin got two sets of these cups from Geneviève Lethu for her marriage.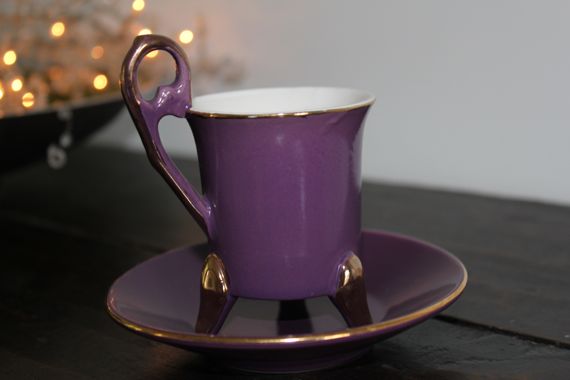 And so she gave us one set.
The love story was complete.
And then I thought, why not give away something from Geneviève Lethu to one of my charming readers? That's something you can get in Chicago (I just learned) and perhaps even in other places outside of France, but is a brand that really represents France for me.
At first I decided on a kitchen towel with a pink design on it and some adorable little checkered jam pots with porcelain spoons that you can serve different varieties of jam in. But I didn't complete the order and when I realized what had happened, the pots were no longer available.
So I settled on these: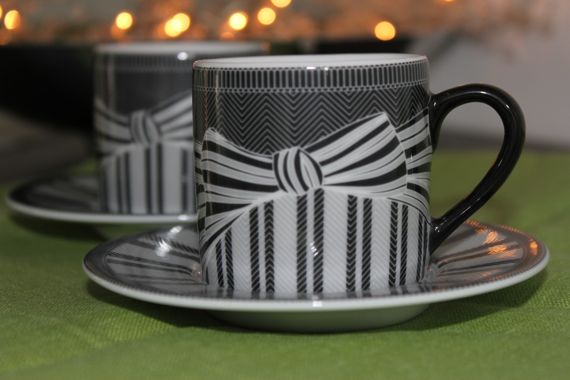 A sage green kitchen towel and two bow tie coffee cups. They are really espresso cup size, but in France they are large enough to be considered coffee cups. You could add a "cloud of milk" and a sugar cube if you so desire.
Do you like them?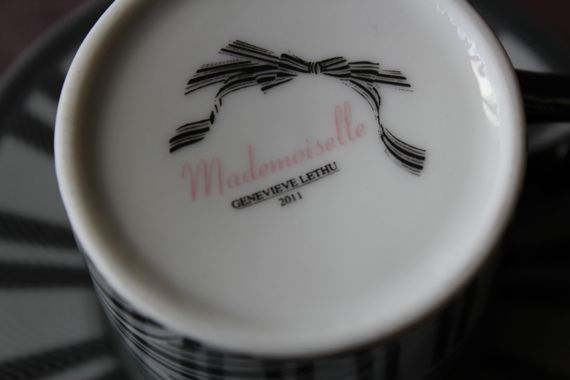 The cups are from the Mademoiselle series.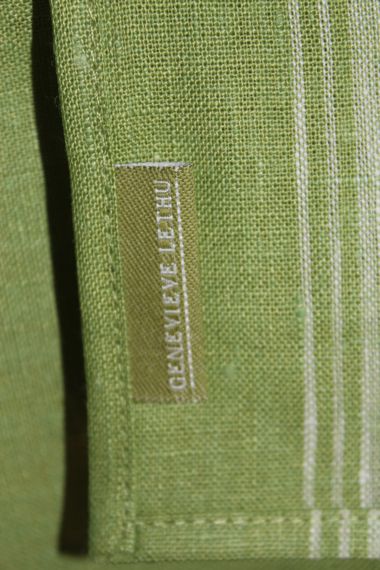 And the towel is just a towel.
The give-away is open worldwide, except for residents of France (sorry – there's a shop in Neuilly if you're smitten). If you want to win them it's easy. I mean you could like my Facebook page if you want but you won't get any extra points. In order to win, you just have to leave a comment bragging about what you're good at. What do you surprise yourself with?
Do you have an uncanny memory for actors, songwriters and artists?
Have you read the 100 greatest books ever written?
Are you able to keep your house in impeccable order even with six children? (I kneel before you).
Are you able to graciously hold your tongue when conversing with idiots? (I gape at you in slack-jawed admiration).
Come on, brag it up folks. I would love to know what you are good at.
As usual for all my give-aways, the goods all come out of my own pocket, which is why there are only 2 coffee cups instead of 8. Apparently the French don't like to give away anything for free. This give-away ends Sunday the 29th April when I get back from Provence.
That's also my mom's birthday so you could wish her a Happy Birthday. Her name is Cathy.
(Oh yes, don't be surprised if I am again a bit MIA this week – the lavender fields beckon.  I'm still with you in spirit, though).