It seems that I have way more things to tell you, my dear readers, than I have time to write them.
I have launched a Facebook campaign this past week to garner more page likes because the more people there are who like my page, the more people there are who will read my stories! And … I'm sorry for my lack of finesse in even mentioning it, but if you would like to follow me on Facebook, you can do so by clicking here). I've been posting more snippets and photos there instead of just linking my latest post.
But sometimes I need space to expand on a theme, and Facebook is not enough. And the topic I want to bring up today is screaming in my brain until I write it.
It's Easter you know. We don't always celebrate the religion behind the holidays, but I was inspired to leave this cheerful note for the kids last night.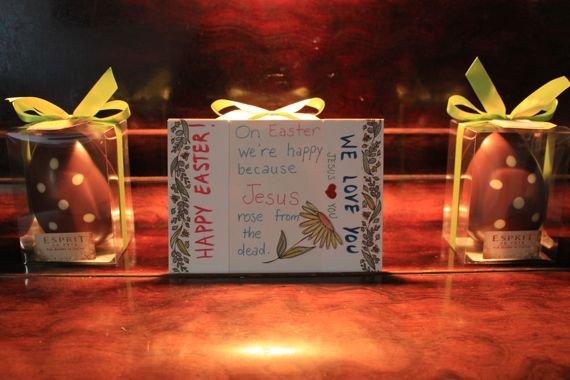 Well … cheerful in the sense that it's bright and colorful, even if the concept is over their heads and mentions death. But this year, I wanted there to be something more meaningful than just chocolate.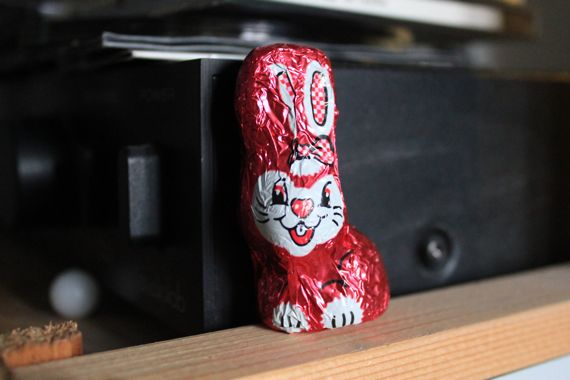 Although chocolate is great. And I may or may not have encouraged my children to tithe their chocolate to me. (With varying degrees of success, I might add). It may or may not have been a good idea to consume it.
So. I got a call last night from a well-intentioned friend. We hadn't seen each other in awhile, but met up again on Friday night. She left me an urgent message yesterday saying she had to talk to me, so I called her back.
And then she asked me if I had had my hormones tested lately because she could tell I had gained weight since the last time she had seen me. When I said I had and that everything was normal, she suggested I have gastric bypass surgery to lose weight. Or, if not surgery, then that stomach ring they can put in to reduce the size of the stomach and make it impossible to eat more.
She was showing me love in the way she knew how. She was offering to come with me to the appointments, to do anything she could for me, laying out all her advice in a mini pep rally of encouragement. She was not at fault, apart from a bit of naivité perhaps, about what is actually helpful.
But the damage she did in one short phone call was complete. She didn't notice that I had stopped talking and was just trying to end the call as soon as possible. She didn't hear that it was not something I was interested in discussing with her. She just wanted to help.
I sat down on the couch, frozen, as my husband tried to figure out what had just happened. I felt shame, fear, disgust, panic – I was frozen, held captive by all these emotions, and I couldn't climb out of the pit of shame and guilt I was in.
Because the thing about weight is, you wear your weakness on your sleeve, on your thighs, on your waistline. If your weakness is overeating, it's the first thing people notice. And since eating is a habit we all have in common, many want to tell you the solution is obvious. Eat like me and you won't have that problem.
Whereas, if your weakness is falsehood, no one knows it unless you're caught in a lie.
If your weakness is stealing, no one knows it unless you're caught with unpaid  merchandise.
If your weakness is alcohol, no one knows about it unless the addiction is so strong you can no longer disguise your breath, your behavior, your habits. (Oh yeah, that's one of my weaknesses too).
If your weakness is anger, no one knows it until you blow up - péte un plomb, as they say in French – until you fart lead.
If your weakness is promiscuity, you can usually hide it … unless your weakness is also alcohol in which case you're not always fully in control of your behavior. (Oh yeah, promiscuity was my weakness too).
But the thing about weight is, people see it right away and are reminded of it every time they see you. They notice whether you are overcoming your weakness or whether you are being buried under its crushing burden.
And that daily effort that overweight people make to switch to green tea instead of their beloved coffee, to join a running workshop, to do T-Tapp, to have protein shakes, to reduce quantities, to reduce sugars, to count and measure and deny (how I hate feeling empty) – that effort can fall to ruins with one fell swoop, an axe to the root, by a well-meaning friend who notices and tries to suggest a better way.
The thing about weight is, if you have too much of it, everyone knows it and therefore it's considered fair game.
I've been working on my memoir, as you know, and these past three chapters have been a really happy period in my past and I'm really happy these days as I relive it. It's when I fell in love and got married.
I look at the pictures from that time period and think I look beautiful. I remember I used to think it then too when I looked in the mirror, and was always surprised. Maybe it was that I was thinner, which made my eyes look larger. More likely it was because I was being pursued by the man I loved.
But sadly, it's the only time in my entire life, apart from the second half of my pregnancies, when I thought I was beautiful.
Last night my husband sat down with me and got me to talk. He drew out my panic, my fears, my shame. He told me that the world is too obsessed with thinness, and murmured quiet encouragement about loving "Rubenesque." It's what I needed to hear and it broke through the frozen panic.
So today I did something unusual and asked him take a picture of me.
Here I am. Size 50 in France, size 16-18 in the States, depending on what brand of jeans.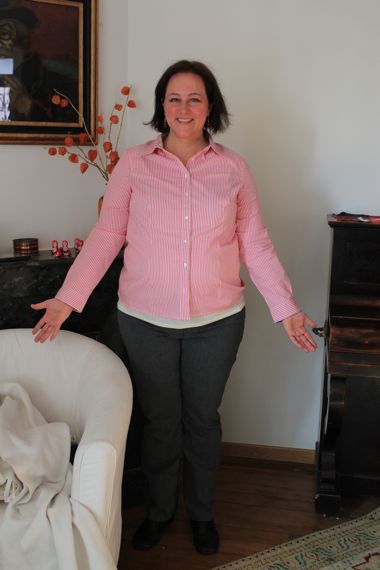 (Huge by French standards). And then I did something else unusual. I had an Easter picture taken with my kids.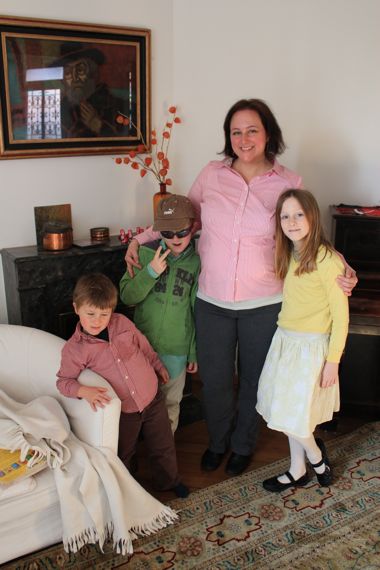 The side view causes me more angst because people usually think I'm pregnant, and at age 43, that ship has sailed. After four pregnancies, my stomach is the first place to show my weight gain and it can balloon out to about 6 months pregnant if I've had a bad week. I see people looking there and I panic.
But the thing about weight is, I have enough critical advice floating around in my own head to add your critical advice there as well. And little though you may realize – you who have never struggled with being overweight – by bringing the subject up with me again, no matter how lovingly it's done, you're confirming that my worst fears are true -
that the thing about weight is – that is what defines me.