This trivial post was inspired by a rainy Sunday afternoon, a camera in hand, the need for a blog post, and a house full of people . . . which meant I had to clean.
In the kitchen, there are the new mauve baskets on my shelves. They hold all the opened bags of lentils and brown rice and dried banana chips and popcorn – the stuff that can spill if the bag tips over.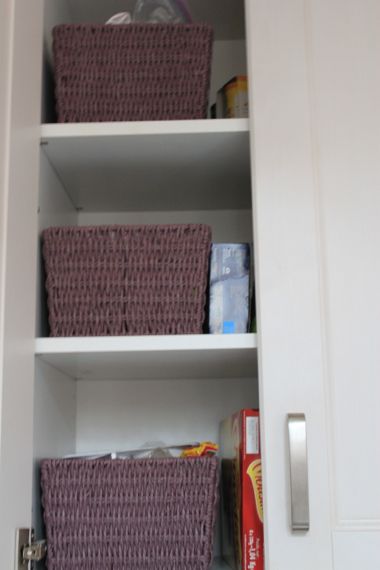 And there's the glass shelf that holds some of my gluten-free flour.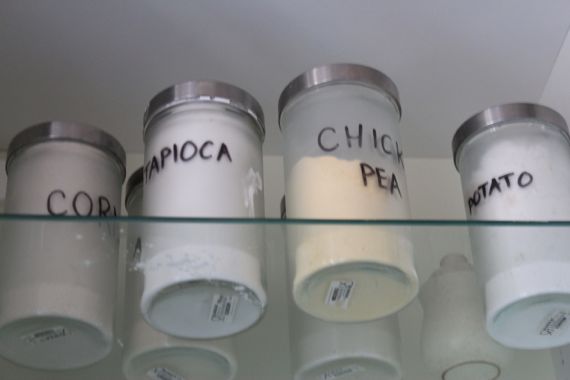 This is the coffee cupboard that holds my coffee and chocolate mix, the sugar cubes and the jam. I currently have an unopened jar of fig jam, which means I need to buy some foie gras, of course.
In the laundry room, there's the basket full of detergent sitting on top of the stacked washer-dryer. And there's the bird magnet  with articulated wings my husband bought in Florida. (It was part of a set, but there's only one left now).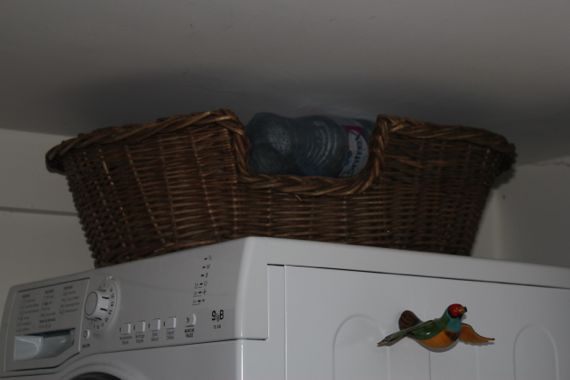 In the guest room, there is a handblown bottle, which was turned into a light, and topped by a lampshade we bought in Honfleur on our 10 yr anniversary trip. There are also the elephant bookends with real ivory tusks, which were given to us in Kenya. On the end there is a beautiful old illustrated book of the Fables de Fontaine.
Inside the "bonnetière" – which used to sit in the entranceway of the large house (to hold people's hats, I suppose) – there is a shelf, which has my English teaching material and scrapbooking supplies.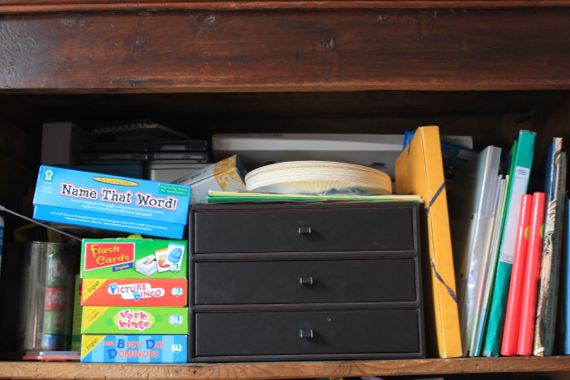 And in the living room, there are my scrapbooks.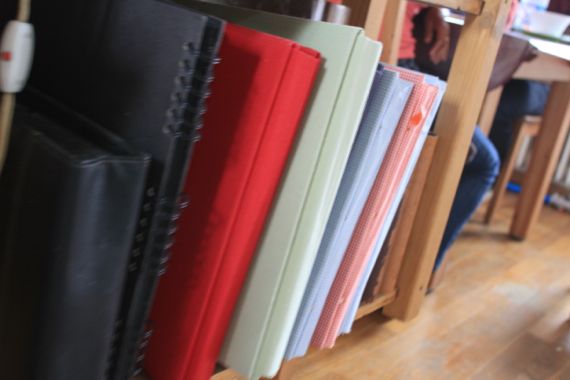 Am I going blind, or are all these pictures blurry?
On the shelf above that is another handblown bottle lamp.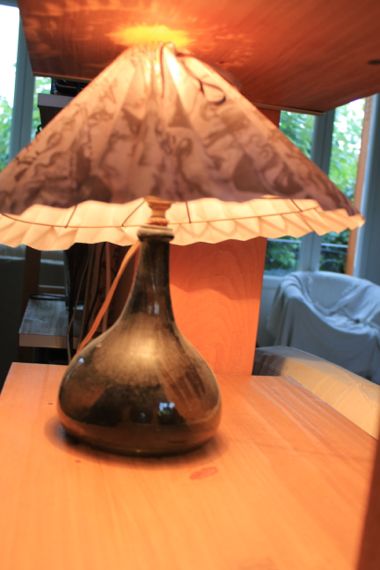 And there is the car lantern that was used by Matthieu's great-grandparents, now attached to our shelving unit as a decorative light. When his great-grands met with another car at night (a very rare occasion at the time), they had to get down and turn their lantern towards the ground so it wouldn't blind the other person. That was the socially correct things to do.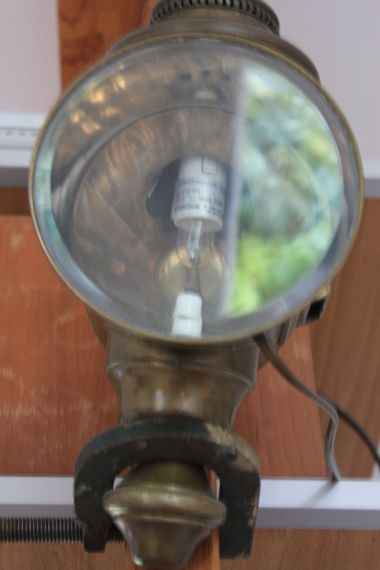 There are the cinnamon sticks a friend brought me back from Madagascar, plus a sketch done by Matthieu's grandfather.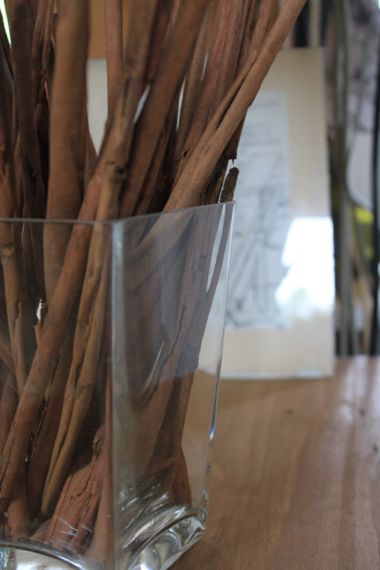 There are elephants from Indonesia.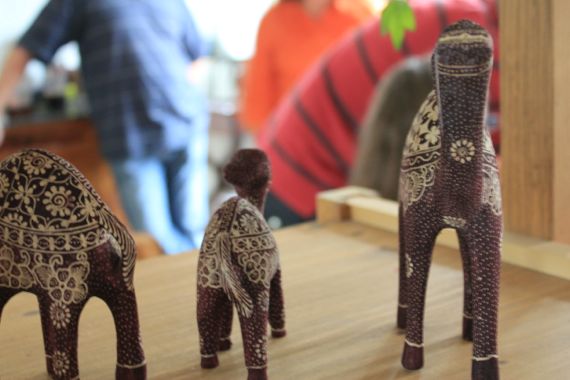 And there's a monkey who "hears no evil" from Somaliland, plus a carved silver decoration from Peru.
And high up is an ordinary china blue earthenware tea set from his grandparents' home, plus a cobalt blue pot containing a hanging plant, which we bought in Auvergne.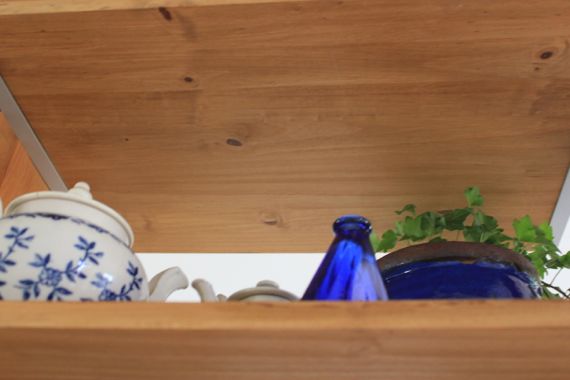 Here's a view from the other side, which also shows the stainless steel incense pot, that contains incense over 12 years old. In Somaliland, we would burn the incense cubes in an earthenware pot, while standing over it with our long dresses so that the scent would permeate the fabric and our skin. The incense smells just as strong as it did 12 years ago.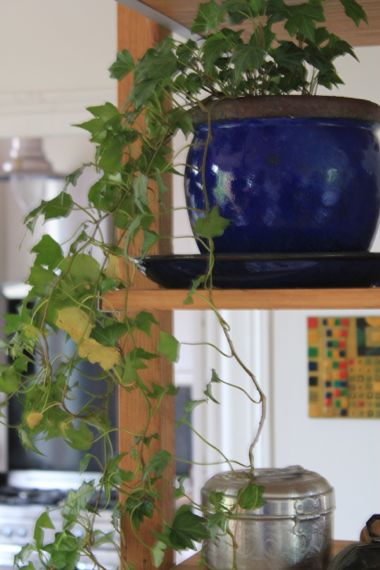 That's what's on our shelves.
Now here's what's on our table.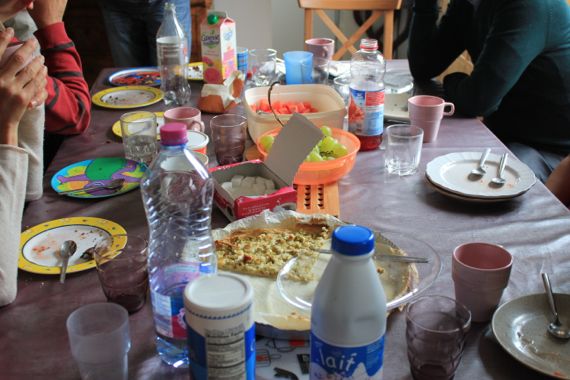 Oh hey guys, don't mind me. Oh, did I have guests over?
So friends, tell me – what's on your shelves?
(And if you say, "junk" you just need to invite people over so that you're forced to clean. That's what I did).