When we lived in Hargeisa, Somaliland, we used to make two batches of – what we called – Somali tea.
One was for us, and the second was for all the local workers who liked it about twice as sweet. Of course this tea was what you all know as "chai tea." But for us it was hot, early morning goodness to sip after our freezing cold showers, while the desert air was still fresh and the sounds of men shouting and goats bleating entered our compound.
Chai means tea, and masala means spices. When I lived in Taiwan, I learned to say "cha" in Mandarin to ask for both tea and water. This came from the fact that it was common to drink water while it was still hot since you had to boil it before you drank it.
So chai tea brings up fond memories of my travels, and I find it infinitely better to make it from scratch than to buy it in teabag format. I'm sorry to say, many of the ingredients you won't naturally have at home (unless you're an intrepid cook). But never thee mind, once you have the ingredients, you'll be able to use them time and again to make your chai.
I looked at a bunch of recipes and saw (and tried) ingredients such as bay leaves, fennel seeds, vanilla, peppercorn, honey, brown sugar and milk in addition to the standard ingredients. And I will tell you freely that my recipe, albeit quite tasty, is not the end of the line if you're a purist and looking for the real chai. I combined a bit of what I like (ginger, anise) with what I learned to do in Hargeisa (powdered milk, white sugar, peppercorns) to come up with a version that will do just fine.
Here are the spices you'll need.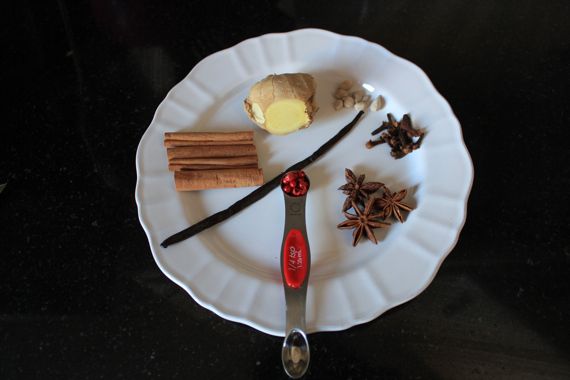 You can probably do without the vanilla bean (or substitute a teaspoon of pure vanilla extract) and the star anise. Or you could substitute a Tablespoon of fennel seeds left over from your colicky baby for the anise.
So put the 12 cloves, the 3 whole star anise, the 4 pieces of cinnamon bark in the pot.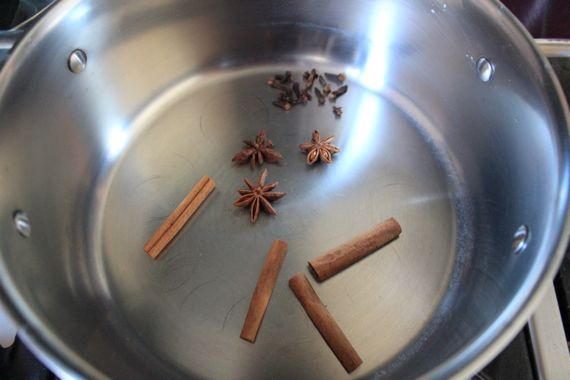 Then crush your 6 cardamum pods to release the seeds and put that in.
Peel your ginger and slice it thinly and put that in.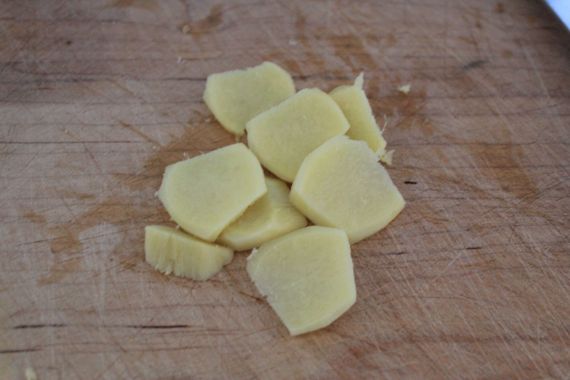 And if you're using vanilla bean, slice that lengthwise and add it now.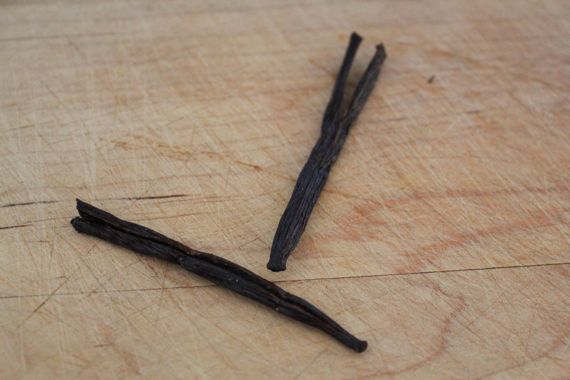 Put 8 cups of water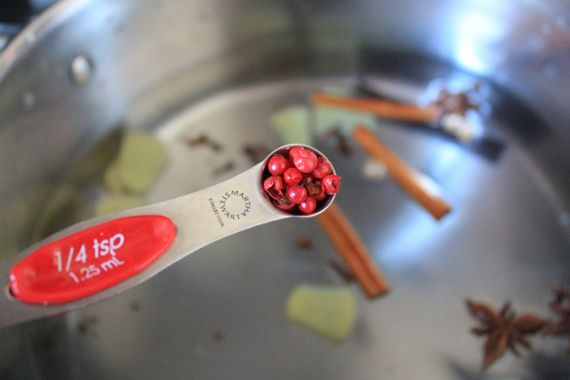 and don't forget the ¼ teaspoon of whole peppercorns!
Bring that to a boil and simmer for 20 minutes.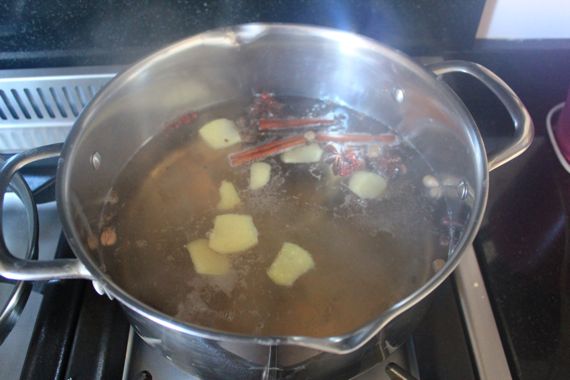 This is not the official method. See here, especially in the comments for a more accurate procedure. But honestly, it tastes very fine all the same.
Now, I like to use powdered milk rather than whole milk because that's what we used in Somaliland. It seems to taste "thicker" that way if it makes any sense. Prepare your powdered milk, your tea and your sugar.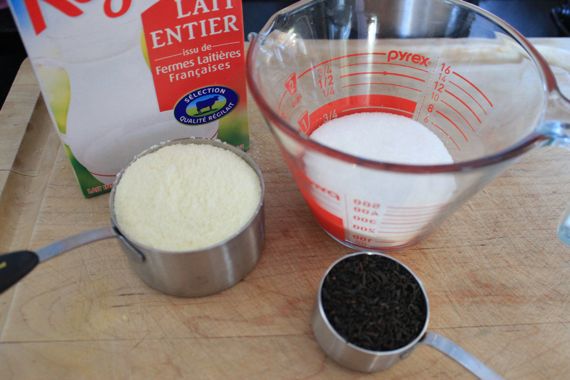 After 20 minutes, your water has darkened with all the spices.
Dump in the powdered milk, ¼ cup tea leaves (or 8 tea bags) and 1/2 cup white sugar. Actually, I suggest starting with 1/3 cup of sugar and work your way up according to taste to get to the traditional sweet version of 3/4 cup of sugar.  And yes you can use brown sugar, and yes you can use about 6 Tablespoons of honey instead.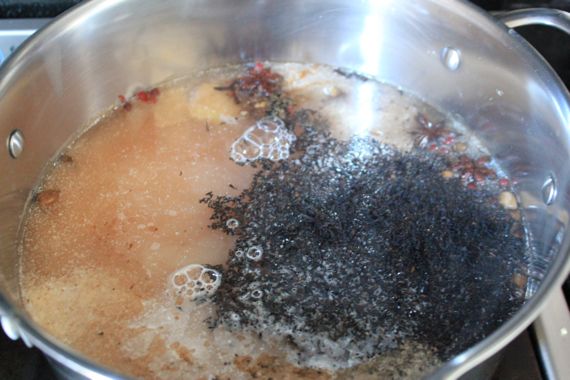 Stir, then boil that mixture for just 2-3 minutes. As much as I love bitter tea and coffee, bitterness has no place in chai masala.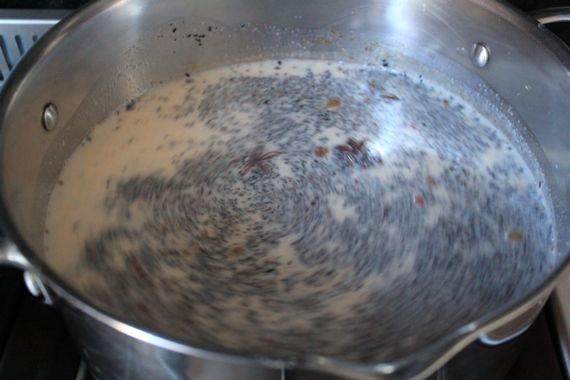 Then prepare your strainer.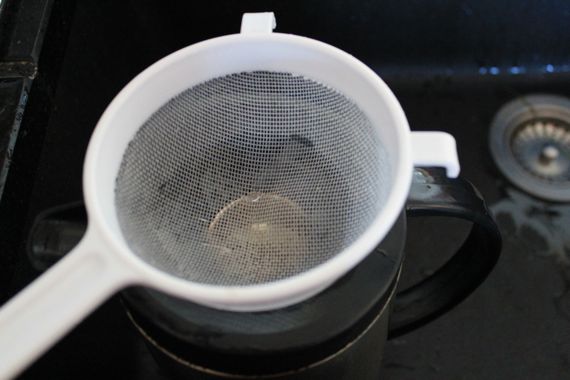 A big one over a big saucepan, or a little one over a carafe.
You can see why you might want to do this over the sink before transferring it to the teapot.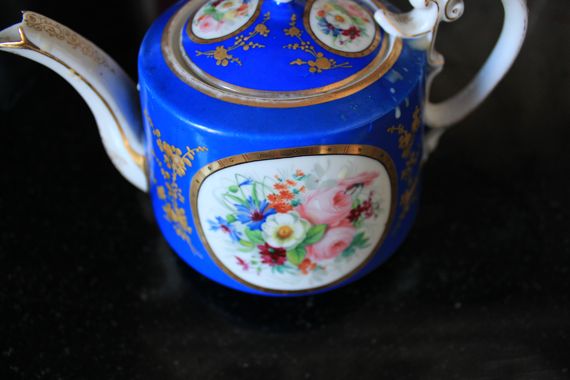 Et voila! Your tea m'lady!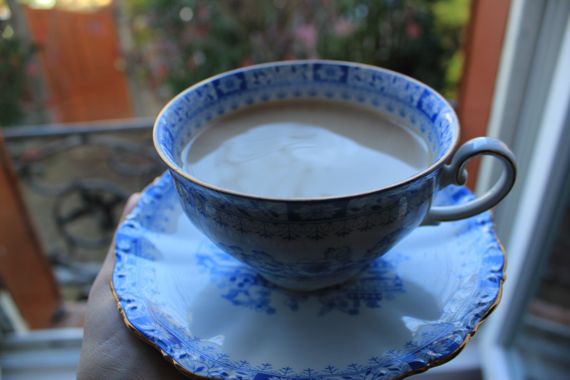 You could sip it with a little chocolate for some sugar shock . . .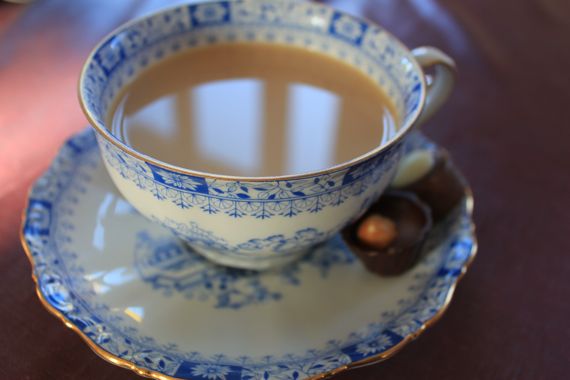 I put a few bleats out on twitter yesterday to say that it was my birthday (knowing all along I was a foolish lady for announcing it at the ripe ole age of 43), and @opinionstogo and @ladysippington happened to see and respond. (Thank you).  But that was just the icing on my day because my husband left a very romantic letter in the mailbox for me to find – in French. (I'm saying that a little tongue-in-cheek, but it was a super romantic letter).
And then last night I met some friends and got pretty Autumn flowers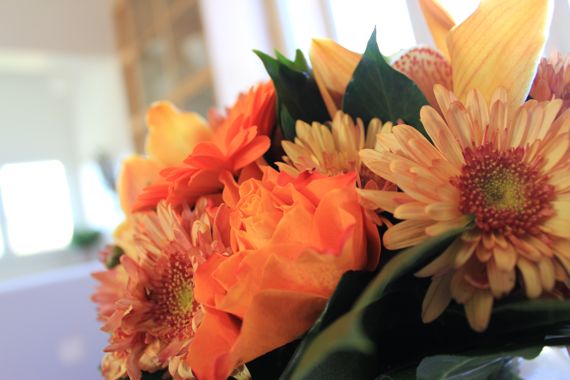 and an enormous box of chocolate, which I promptly dropped on the ground when trying to unlock my door.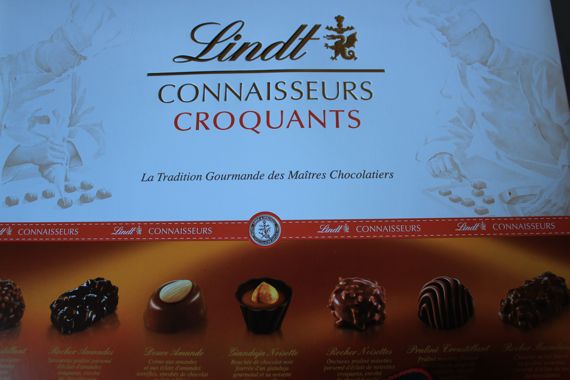 and lost Every. Single. Chocolatey. Piece.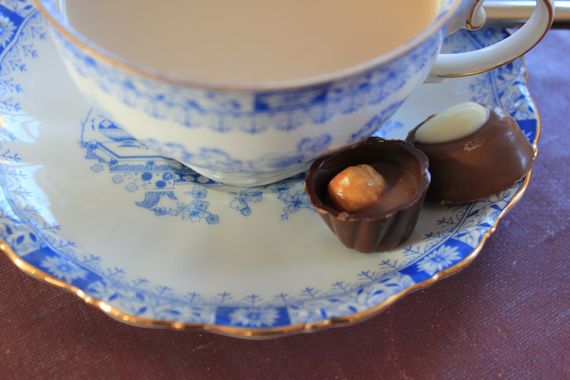 So perhaps not with chocolate. Chai tastes really good with those spicy goat meat samosas we had in Somaliland, but if you don't have those handy, you can stick with Indian food, or as a default – a hot panini instead.
But chai is best when shared with friends. My very dear school mom friends who bring me joy when I go pick up my kids at school every day.
Christelle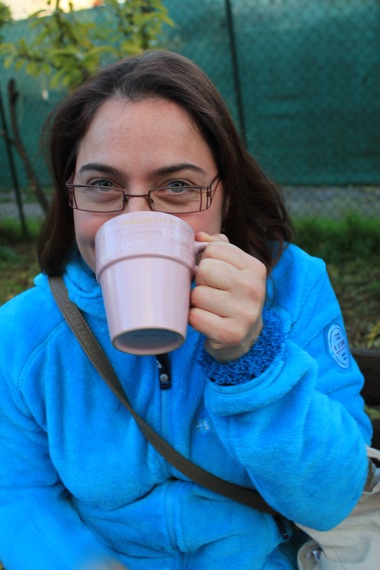 Renata
Céline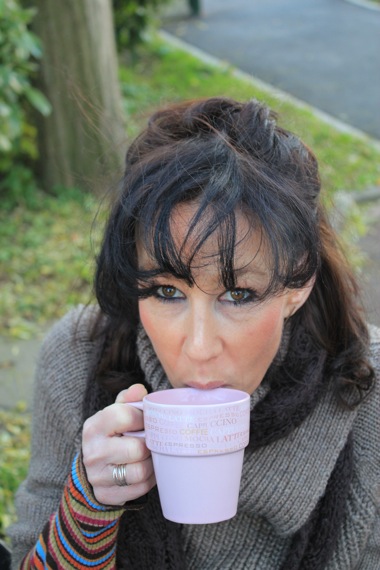 (Céline is the only one of my adorable friends on twitter, and she's fashionable, witty and an expert in French politics (even though she's Belge). If you understand French, do follow her at @clinem78 . She's brand spankin new on twitter and is working on her profile page so don't mistake her for a spammer).
I'm a lucky birthday girl to have such friends.
Ingredients
4 pieces cinnamon bark
12 whole cloves
3 star anise
6 cardamom pods
1 vanilla bean
¼ teaspoon whole peppercorns
1 chunk ginger, about ¾" - peeled and sliced thin
8 cups water
1 cup milk powder
¼ cup tea leaves or 8 teabags
⅓ - ¾ cup sugar
Instructions
Slice the vanilla bean
Peel and slice the ginger
Smash the cardamom pods
Then put all the spices in a saucepan with the water
Bring to a boil
Simmer 20 minutes
Add the tea, milk, sugar
Boil for 2-3 more minutes
Strain and serve hot, usually with a hot salty snack
Comments
I love to hear from you, friends. You can comment using the box below or your Facebook profile. But FB doesn't notify me of new comments, so if the post is more than a week old and you want to make sure I see your comment, it's better to use the comment box. Merci!